This will change the way you think about turnips. The greens and root pair excellently and give a little more glorious color and nutrition to the Turnip Gratin dish.
Why this recipe works!
Chili spice and lemon peel light up the tastebuds in the most delectable ways while coconut cream and homemade broth make this dish just as savory and comforting as you would hope.

Turnips are cold season vegetables so they are often available in spring and in the fall. This is a great way to use that garden harvest while preparing for colder temperatures!
I hope the next time you get a bunch of turnips, you consider roasting them to gratin perfection.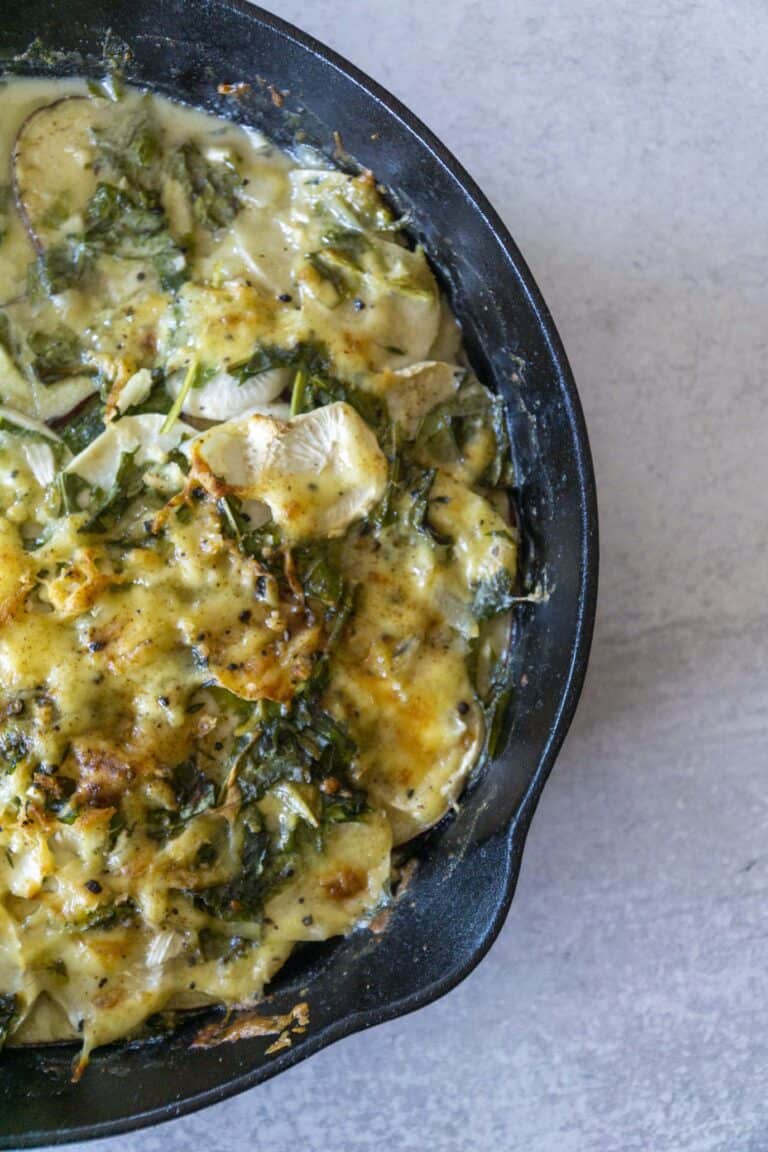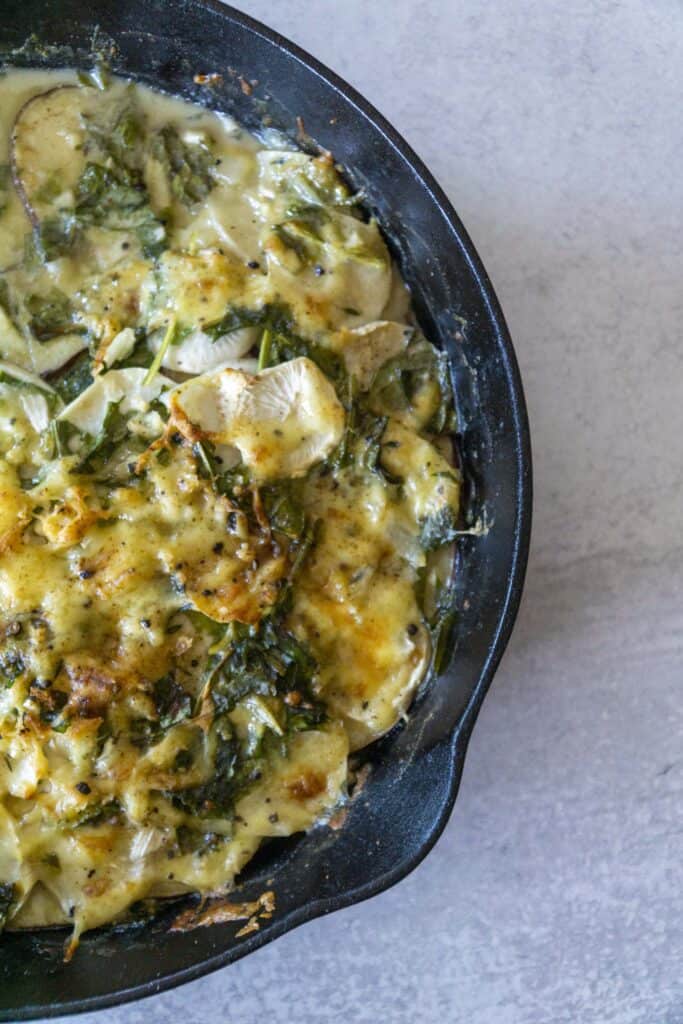 The Turnip Gratin Ingredients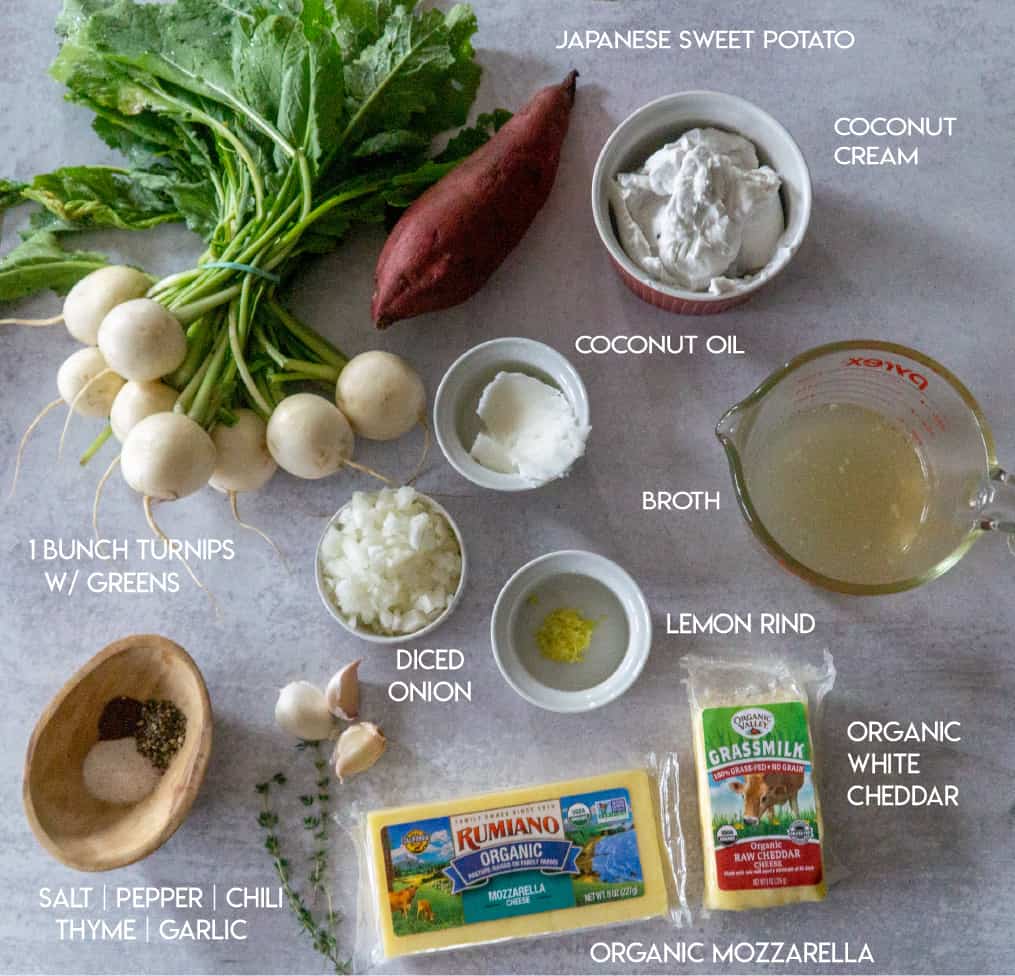 Turnips!
Turnips are a root vegetable that really deserves more attention than they get. They are white bulbs, sometimes with a purple hue on the top of the turnip with long edible greens attached.

The greens are one of the best sources for Vitamin A and can be cooked on their own similar to chard or collard greens and add additional nutrition and color to this dish.

The turnips themselves can be used in many recipes that call for potatoes, but they are lower in calories and higher in fiber. In short, turnips taste like woodier potatoes when cooked but they are nutritionally closer to a slightly sweet cauliflower.
If you're a turnip convert, try these amazing Turnip Fritters! I also love them in this turnip broth bowl and turnip curry.
Mandolin the turnips and sweet potatoes into thin slices
For the gratin, you'll mandolin both the turnips and the sweet potatoes into thin slices.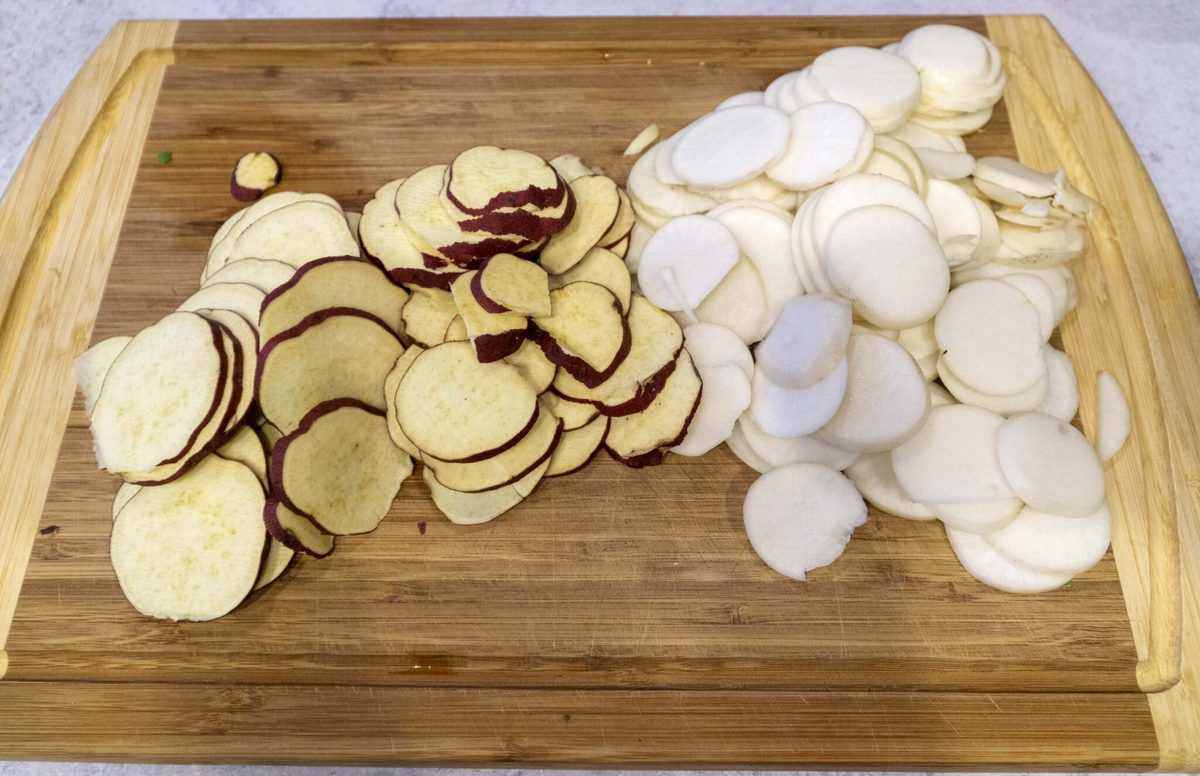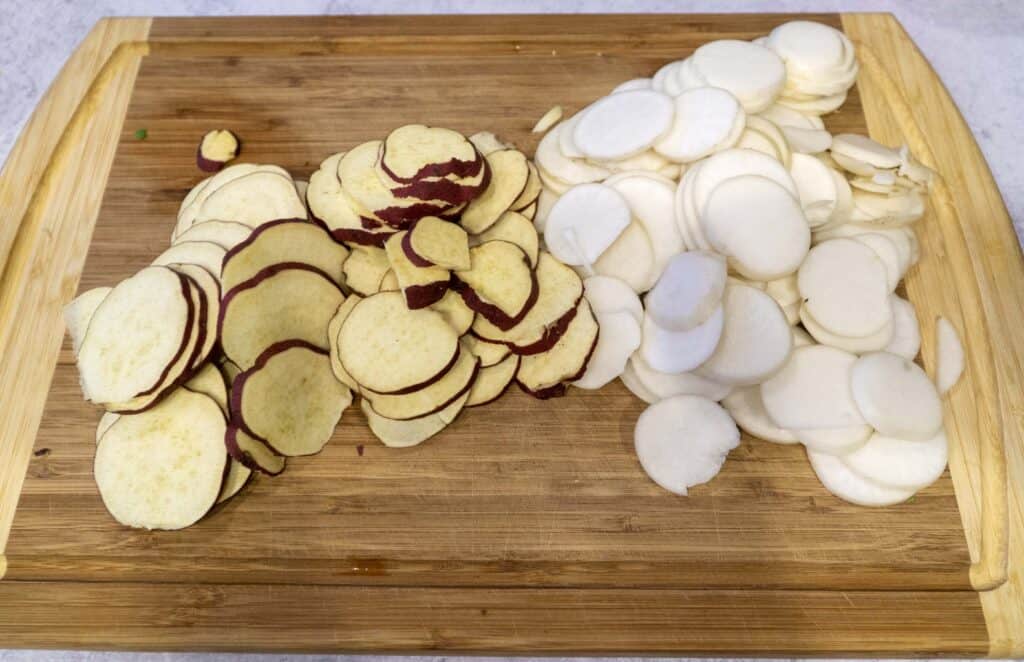 Cheese
I don't often cook with cheese on this website, and that's mostly because eliminating dairy from my diet has been massively beneficial for my skin, gut, microbiome, yeast infections, and allergies.

But when I do eat cheese, I make it really high quality which tends to reduce some of the negative symptoms some people can experience with cheese.
What qualities to look for in cheese
The two qualities I look for are:
pasture-raised grass fed cows
organic.
Why doe this matter?
I don't want unhealthy cows unnaturally eating grain or pumped with hormones and pesticides because that negatively impacts their milk.

This turns into cheese with those negative compounds and the cows' own inflammation factors.

Choosing Cheddar and Mozzarella
It's easiest to consistently find raw cheddar and mozzarella that fit these criteria, which is the main driver of using them here. Cheddar gives that sharp tangy flavor while mozzarella gives a creamy texture and that visual of cheese pulling apart!
This recipe also uses less cheese than the typical augratin because I believe that cheese should be an accent, not a main course.
Grate the cheese for this dish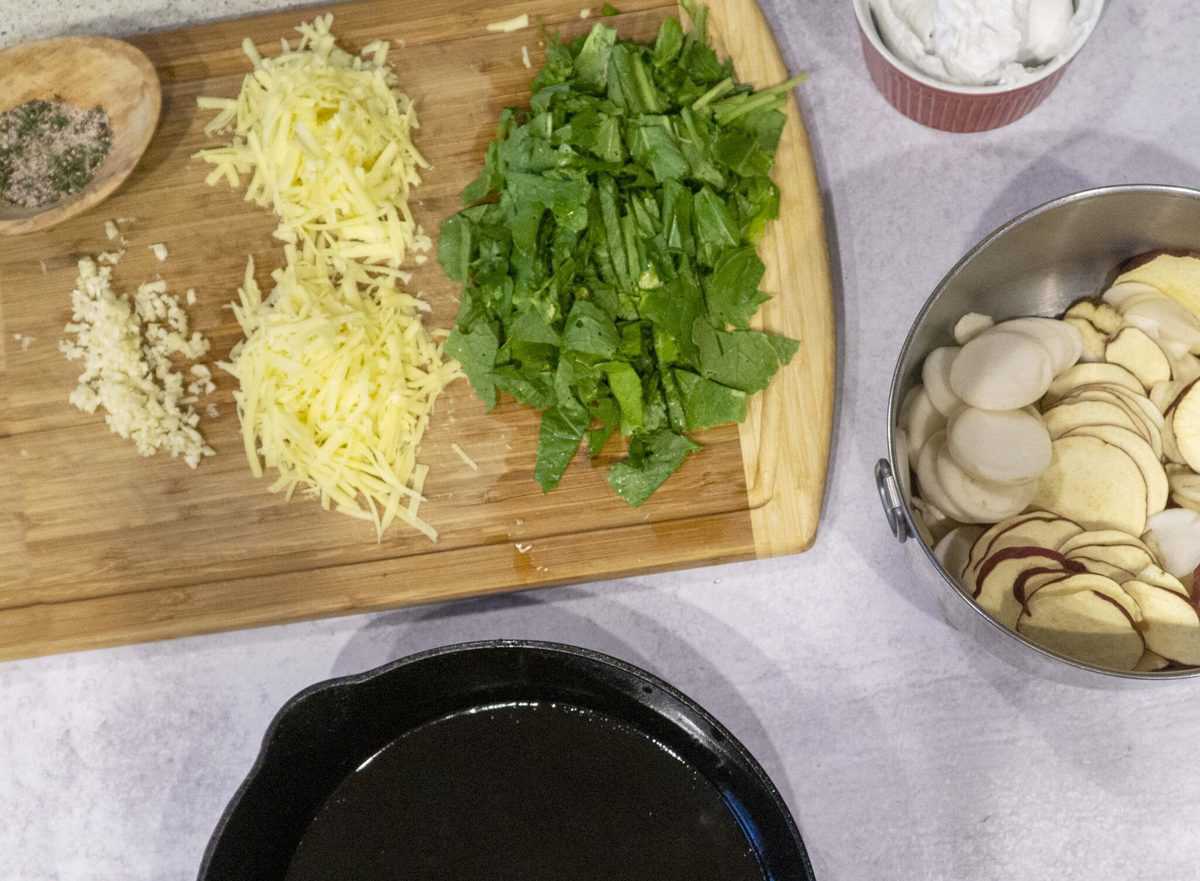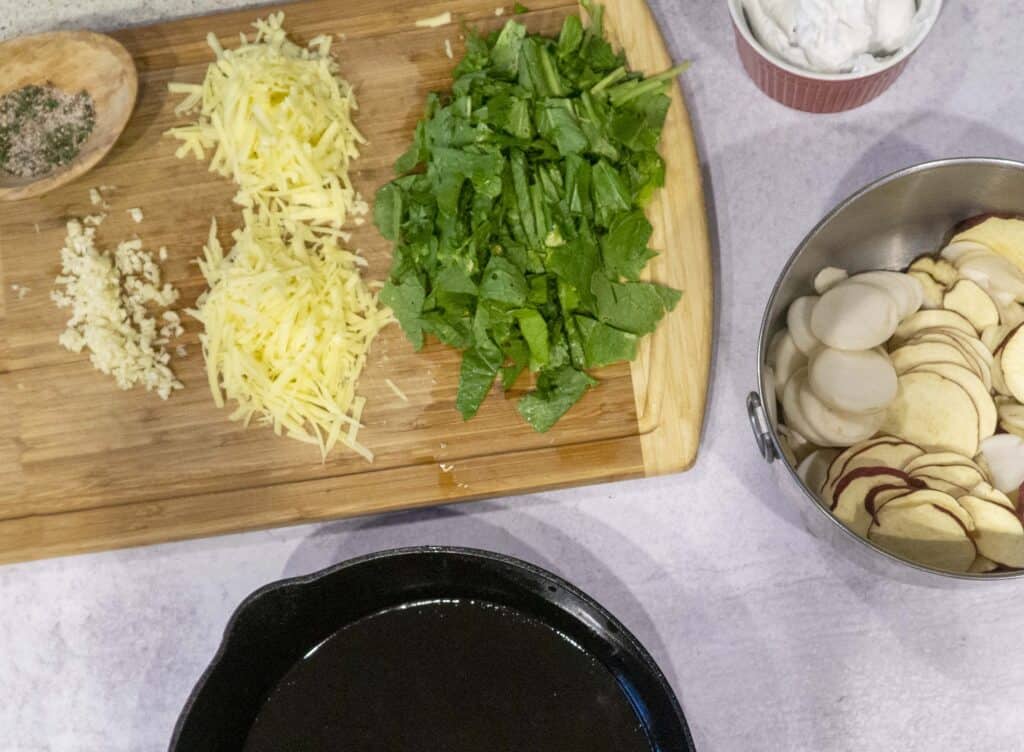 The Layering - most important step
Layering the ingredients in the right way turns it from a random casserole to a layered au gratin.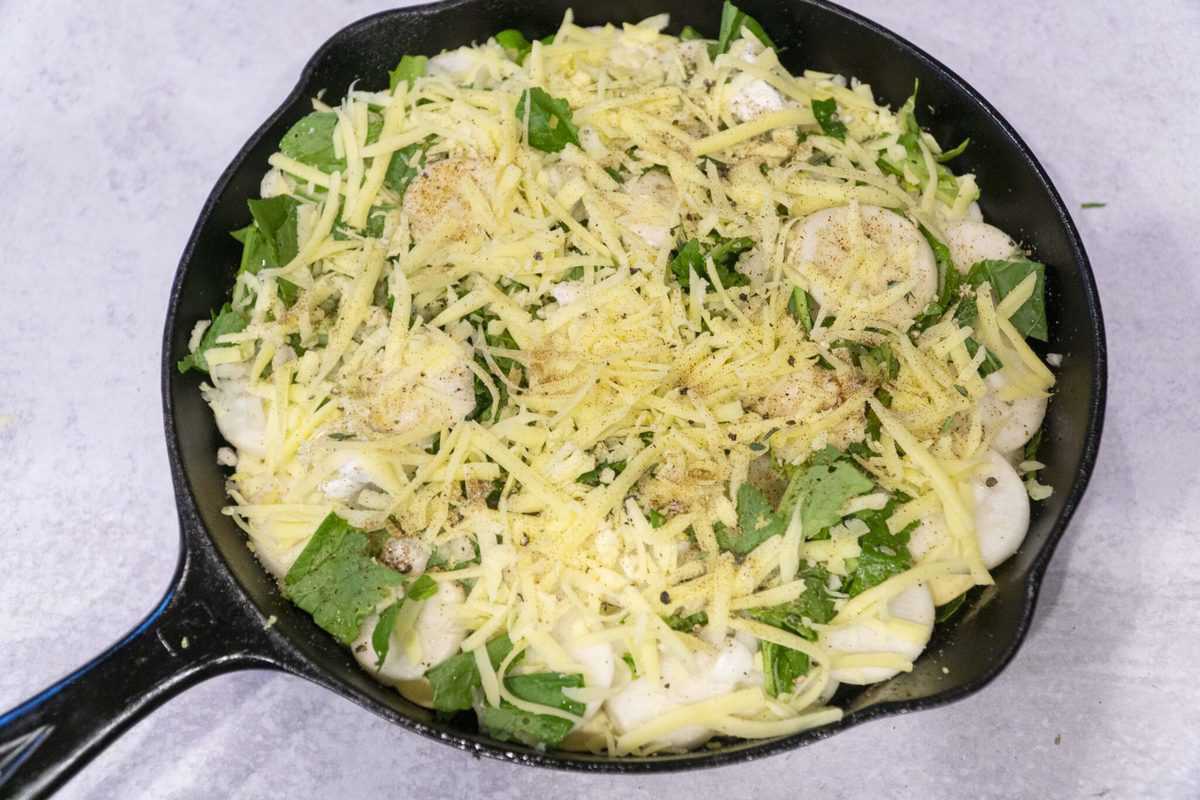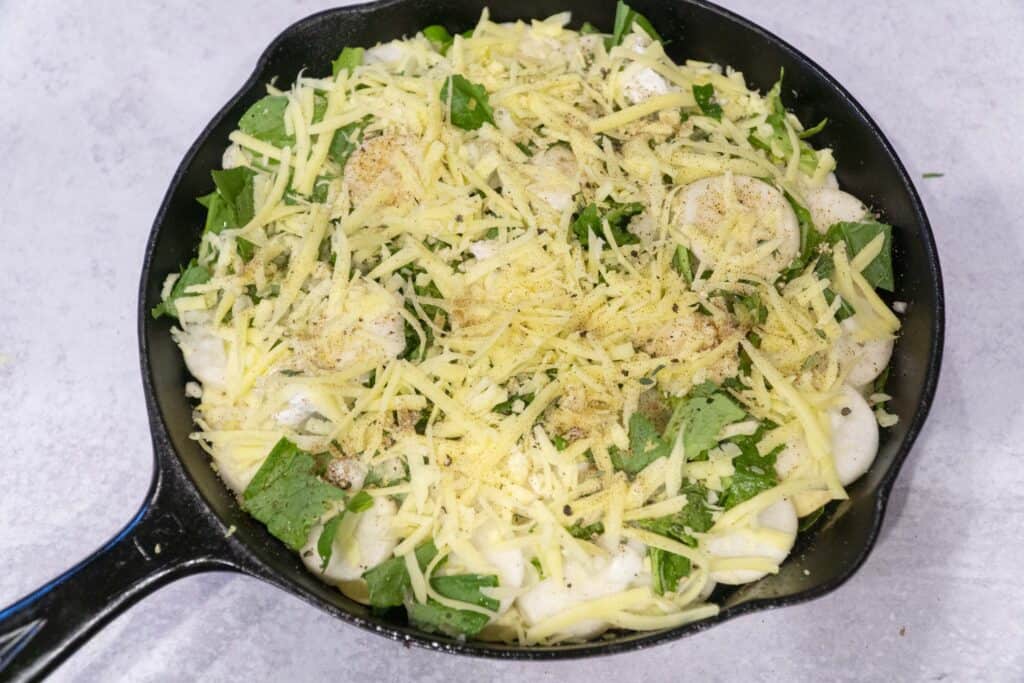 Here are the Turnip Gratin Layers in Order from Bottom to Top
The quantities, like 1/2 or 3/4 mean that you should use 1/2 or 3/4 of the total amount called for in the recipe.

When I say the remaining 1/2 or remaining 1/4, that means you should use what's left and it should be about 1/2 or 1/4 of the total amount called for in the recipe, respectively.
The Turnip Gratin Layers
1 tbsp melted coconut oil - melted evenly on bottom of cast iron skillet
1/2 of sweet potato rounds
1.2 of turnip rounds
1/2 of salt/thyme/pepper/chili mix
1/2 garlic
1/2 onion
1/2 lemon rind
1/2 of each cheese
3/4 greens
3/4 coconut cream
3/4 broth
Remaining 1/2 sweet potato rounds
Remaining 1/2 turnip rounds
Remaining 1/4 of turnip greens
Remaining 1/2 garlic
Remaining 1/2 onions
Remaining 1/4 coconut cream
Remaining 1/2 lemon
Remaining 1/2 cheese
Remaining 1/2 salt/thyme/pepper/chili mix
Remaining 1/4 broth
Remaining 1 tbsp coconut oil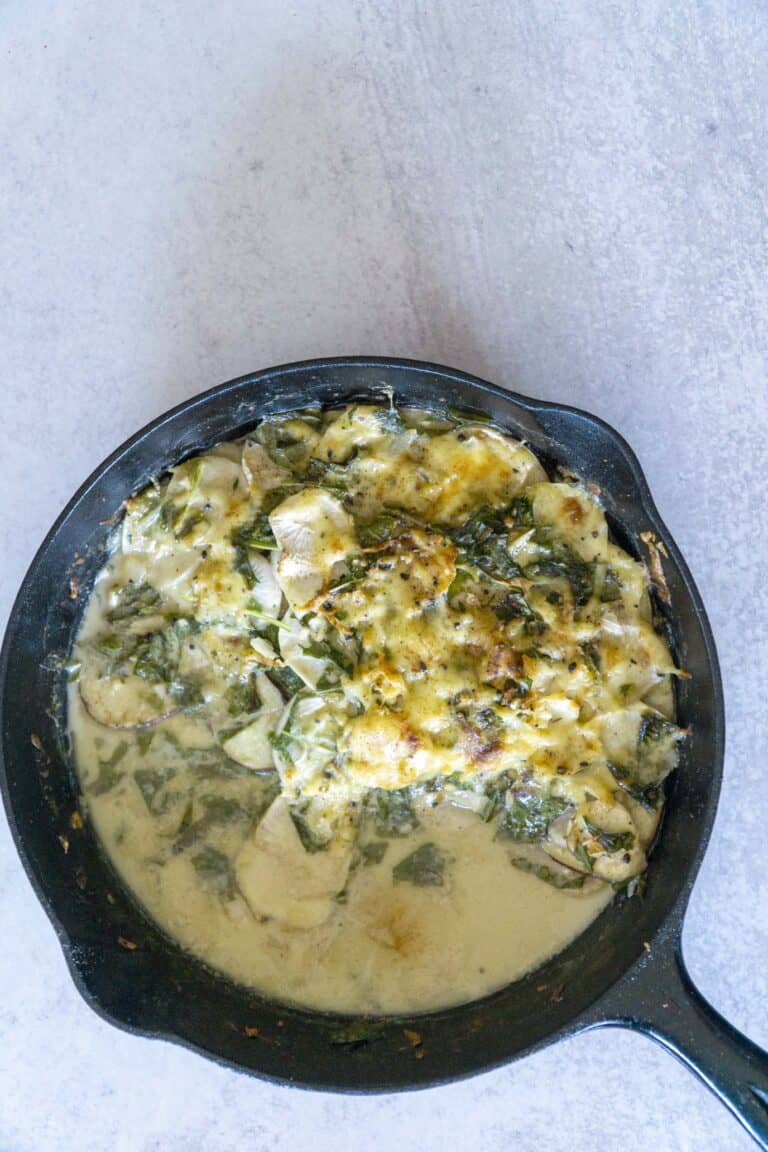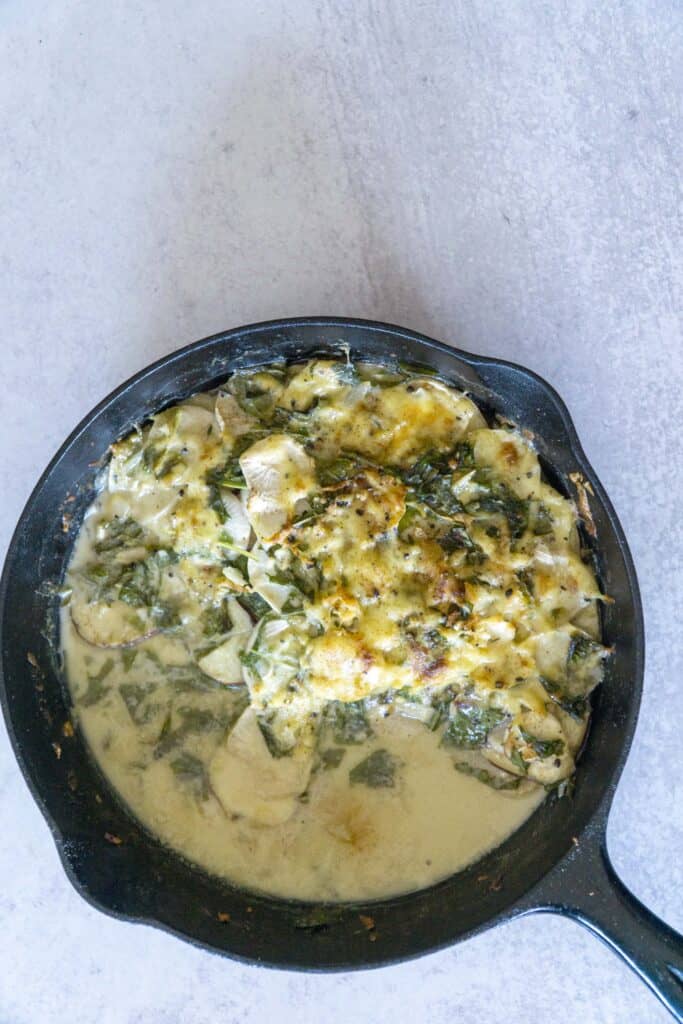 If you love this one-dash cast-iron skillet, you might also love Rhubarb Chicken skillet!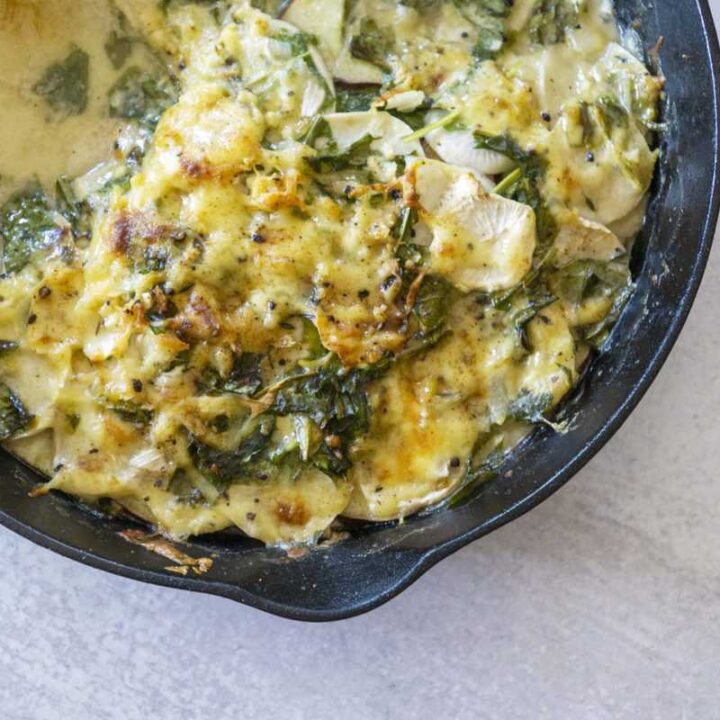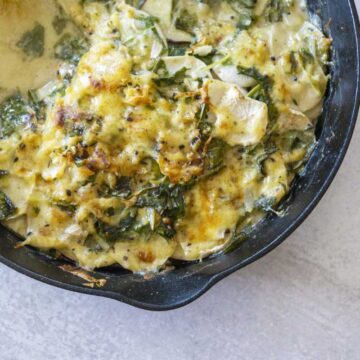 Turnip Gratin
Mixing the root and greens into a nutrition-packed comfort food that tingles your tastebuds with slight hints of lemon and chili and deeply savory and comforting broth and coconut cream. Great in spring, summer, fall, and winter and delightful addition to thanksgiving.
Print
Pin
Rate
Equipment
Oven

10 1/4 inch Cast Iron Skillet
Ingredients
2

tbsp

coconut oil

can sub pastured butter

1

bunch

turnips

root and greens

1

Japanese sweet potato

3

sprigs thyme

1

tsp

real salt

1/2

tsp

ground black pepper

1/4

tsp

red chili powder

1/2

cup

white onion

diced

3

cloves

garlic

1

tsp

grated lemon rind

1/2

cup

grated cheddar cheese

organic and grass-fed

1/2

cup

grated mozzarella

organic and grass-fed

1

cup

coconut cream

about the amount of cream in one can - can replace with whipping cream

1

cup

broth

chicken bone broth or vegetable broth for vegetarian
Instructions
Preheat oven to 425

Melt coconut oil in the bottom of cast iron skillet and make sure it evenly coats the bottom of the pan

Wash turnips and separate greens from roots, discarding stemmy parts and root ends

Mandolin the potato and turnips on setting 2, or 1/8 inch thick

Destem thyme and mix with salt, black pepper, and chili powder to make the spice mix

Mince garlic and grate lemon rind

Begin layering on top of the coconut oil in this order, using half of the total ingredients each time except where noted otherwise: sweet potato rounds, turnip rounds, spice mix, garlic, onion, lemon rind, cheeses, 3/4 greens, 3/4 coconut cream, 3/4 broth, sweet potato, turnip, greens, onion, garlic, coconut cream, lemon rind, cheese, spice mix, broth, coconut oil

Bake for 20 minutes. It should be bubbling at the end

Broil at 425 for 5-7 minutes or until browned.

Serve and enjoy!
Notes
This is a liquidy gratin so don't be surprised to see leftover broth and cream in the pan.
If you can't find turnips with greens, you can substitute 1 cup of chopped swiss chard, spinach, or dinosaur kale
Nutrition
Calories:
1716
kcal
|
Carbohydrates:
85
g
|
Protein:
43
g
|
Fat:
143
g
|
Saturated Fat:
117
g
|
Cholesterol:
104
mg
|
Sodium:
4117
mg
|
Potassium:
2213
mg
|
Fiber:
16
g
|
Sugar:
19
g
|
Vitamin A:
33298
IU
|
Vitamin C:
70
mg
|
Calcium:
882
mg
|
Iron:
9
mg
This nutrition information does not tell the whole story of food's nutritional value! Make sure to use your gut intuition on what your body needs, eat your veggies and get 30 plants a week for optimal gut health. This nutritional data is calculated based on above values and standard brands. This information may vary.