A quick chicken Thai curry with turnip, celery, radishes and Yai Thai's yellow curry sauce, this recipe will satisfy you're craving Thai takeout.
Everyone has their guilty pleasures, am I right?
Mine... well one of mine ;)... is Thai takeout. I just LOVE it. Especially after a night out, or if I feel tired, or if it's late, or if it's Sunday.
You get the point. Pretty much every time is a good time for Thai food.
So why not try to clean it up a little?
Curries usually come with potatoes, tomatoes, carrots, and bell peppers.
As someone who avoids nightshades when convenient and dislikes bell peppers, I avoided my favorite Thai curries for a while.
If that's you too, I'm here to tell you to stop it! That's unnecessary!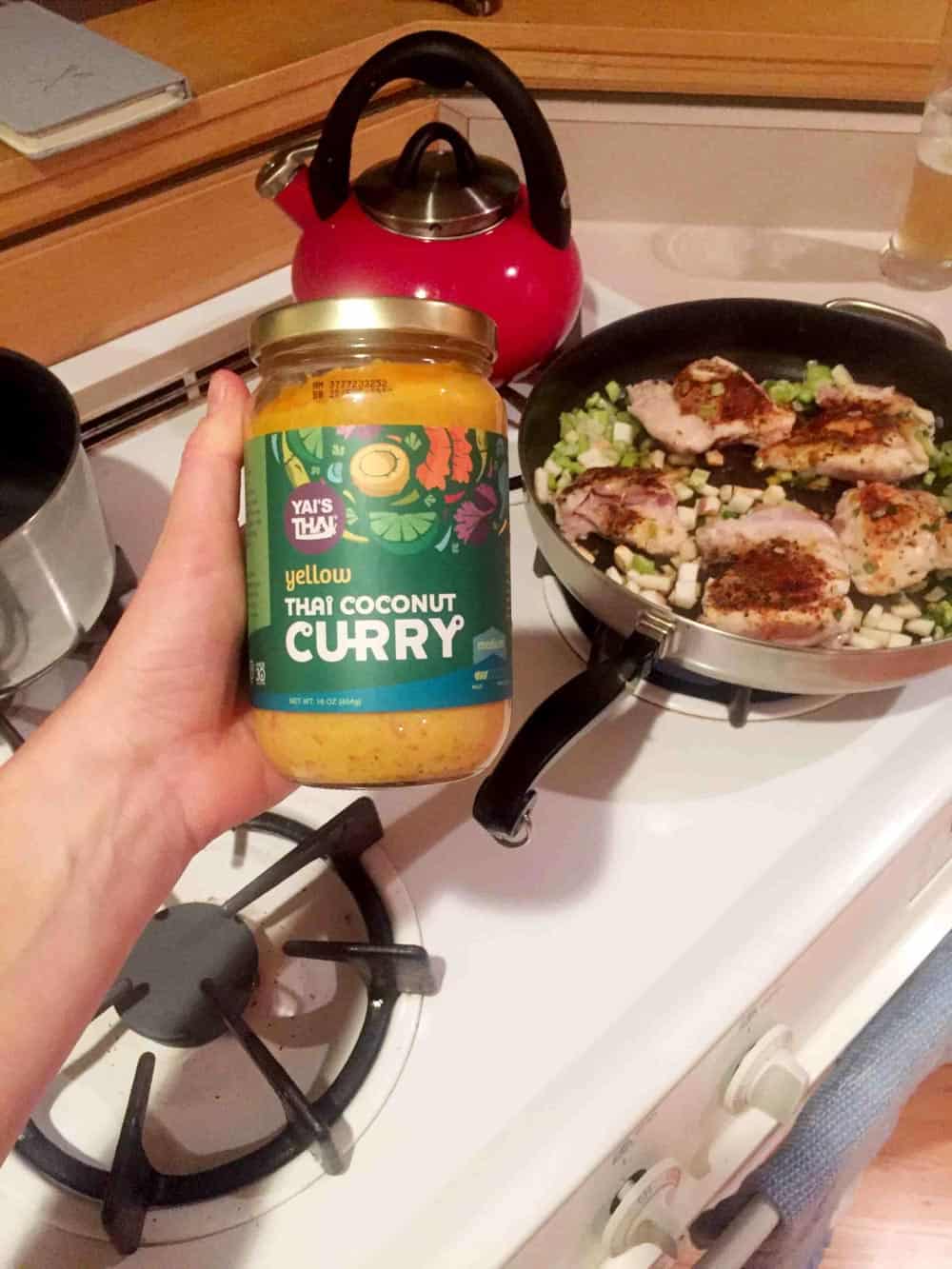 You don't have to use the traditional veggies to make a delicious curry
This curry is relatively quick and uses a variety of vegetables you wouldn't typically use.
Instead of Potatoes, I used Turnips
Instead of Bell Peppers, I used Celery
This curry is great over rice, rainbow chard, cauliflower rice or plain as a soup. It's also awesome served with taro chips 🙂 if you're not grain free, corn chips will do too.
This curry is easy because you don't have to buy a lot of ingredients... just use the Yais Thai sauce.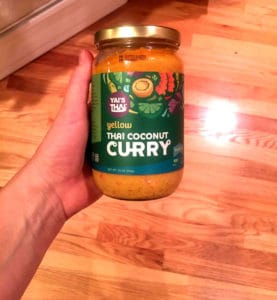 How to make the Chicken Thai Curry
I'm using a pre-made sauce for this, so most of the work is just dicing the veggies. Then most of the time is letting the chicken simmer in the sauce with the veggies until its cooked through.
I flavored the chicken with basil, ginger, and paprika. Basil and ginger are staples of Thai cuisine and the paprika adds a nice color to the chicken.
Celery, turnip, onions, serranos, and radishes are the veggies in this version, but the beauty of a curry is that almost any vegetables will do. If you have carrots, parsnips and anaheims, use those instead!
Curry really can be a make-your-own-adventure type of meal.