A quick 5-minute blender recipe for individually sized and refined sugar free zucchini bread. This fluffy loaf is naturally sweetened with dates and almond flour and perfect for every morning.
Saturday mornings.
That time when you crave a peaceful morning, with an almond milk cappuccino and a nice pastry. Perhaps you're enjoying a lovely conversation or a thrilling novel as the sun shines on your quaint garden-side table. The zen surrounds you like a cafe on Champs Elysees, shavasana, or a random Tuesday when you miraculously woke up 30 minutes before your alarm.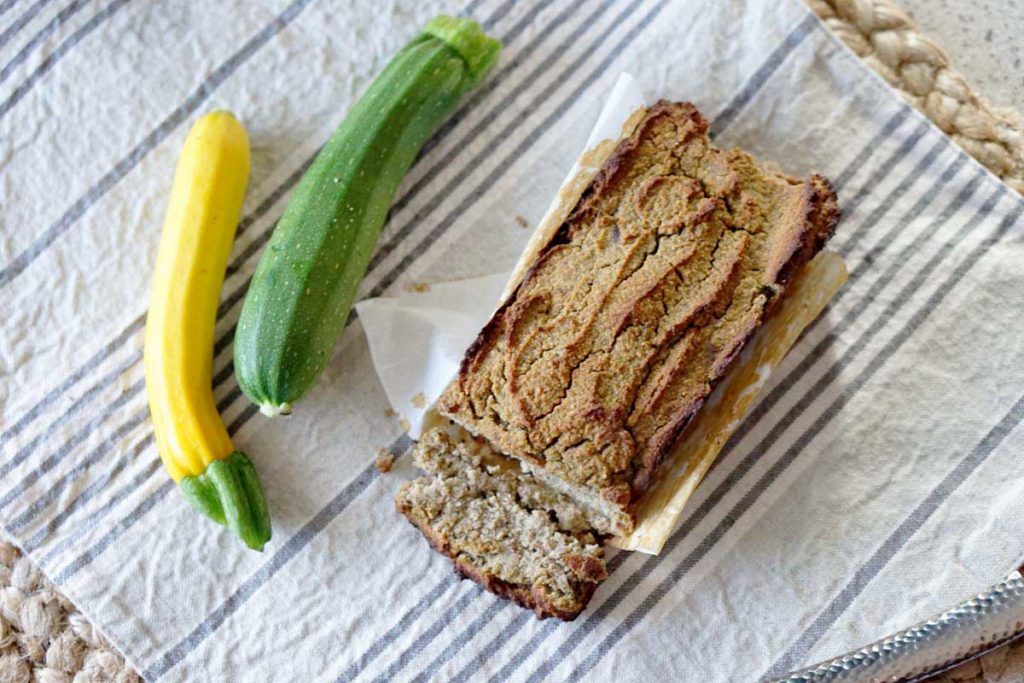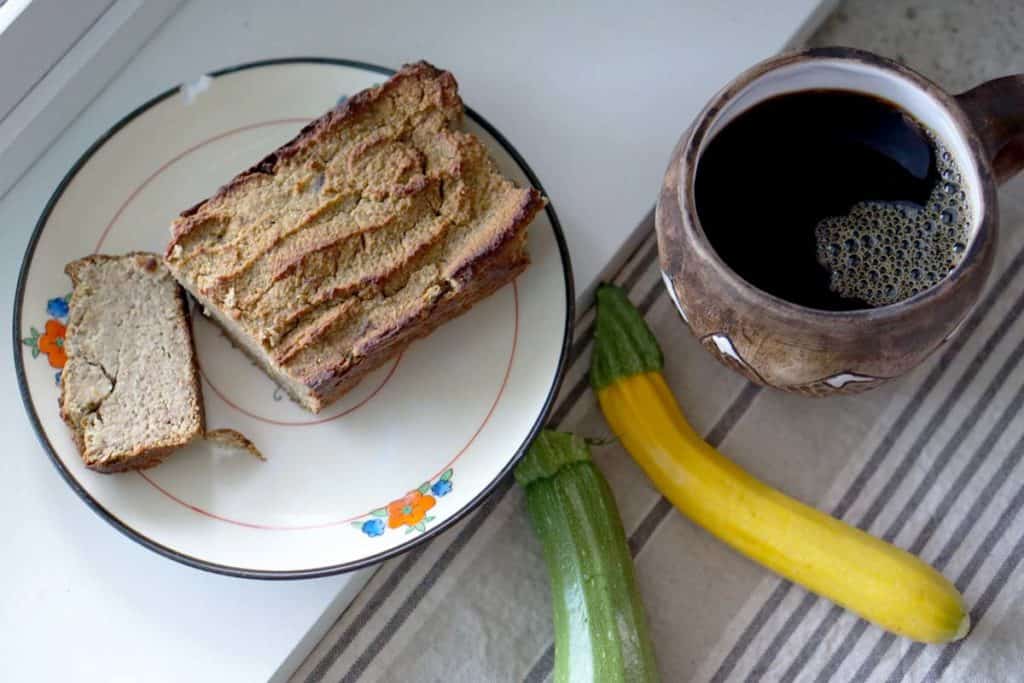 If only I still lived in a world where eating gluten, dairy and sugar-laden treats was a good idea for me. Then I could sonder into any cafe in the neighborhood, order a cappuccino and a bear claw, and nestle into my romanticly unrealistic expectations of life.
Nope.
Those days are no more.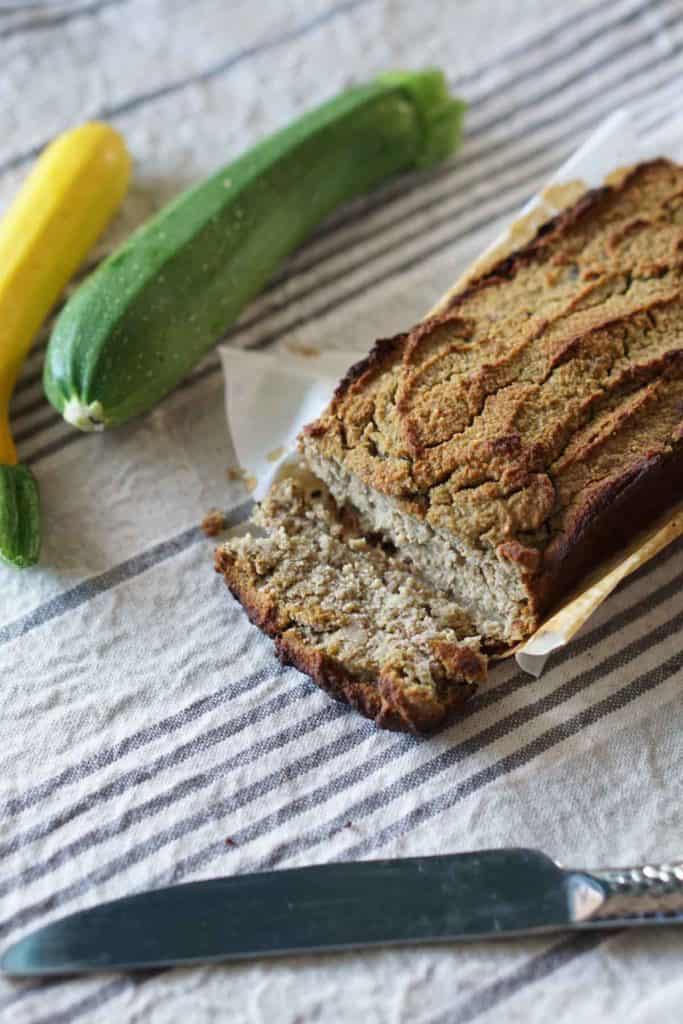 I'd break out, get ill and generally be under the weather for a week. So I'll skip the buttery croissants, creamy lattes and sugar cubes.
I will, however, make a homemade replacement that nourishes my body and get's me "almost" to that Parisian cafe vibe. It will be delicious, nutritions and as always, gluten free, dairy fee, and refined sugar free. And totally Zen
Now, those Saturday mornings are for this healthy zucchini bread: a fluffy, light, bright and nutritious slice. Perfectly sized for 1 or 2. Delicately balanced with just enough natural sweetness from the dates.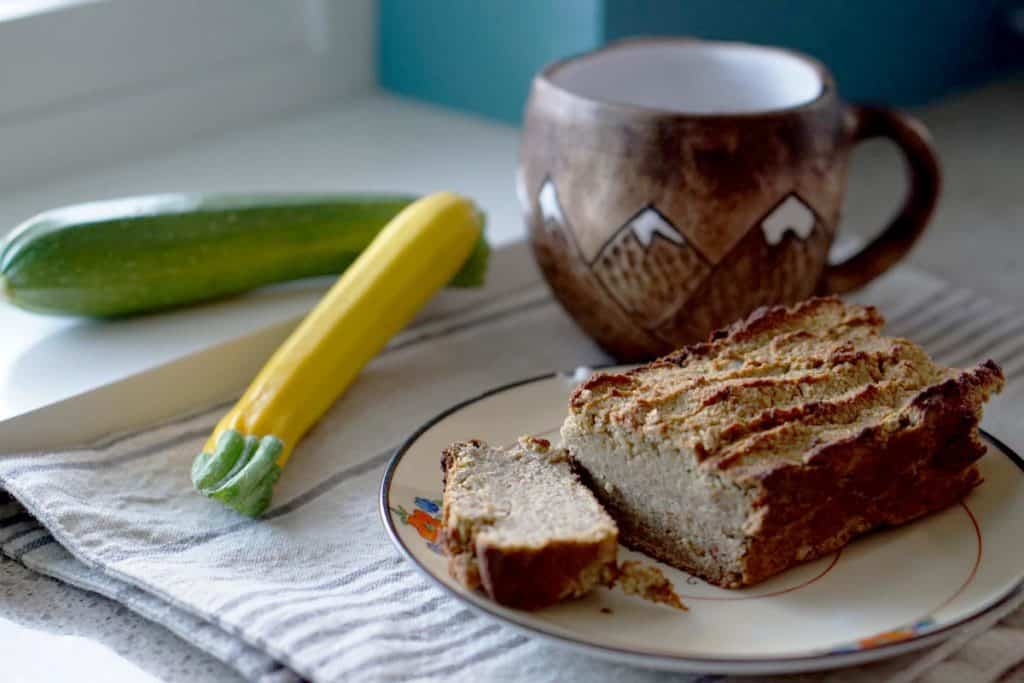 Individual zucchini bread - for when you just want a little
I know when I make an entire loaf pan of bread, it's usually too much and I either eat it to save it or end up throwing it out. Not the case with this mini zucchini twist: perfect for two to share on a lovely morning or for just me to have a couple of times.
I love individual sized baked goods. This recipe makes just a couple of servings so you can eat the entire thing and not leave any for waste. It also doesn't tempt you to overeat.
And you get to use these cute little zucchinis.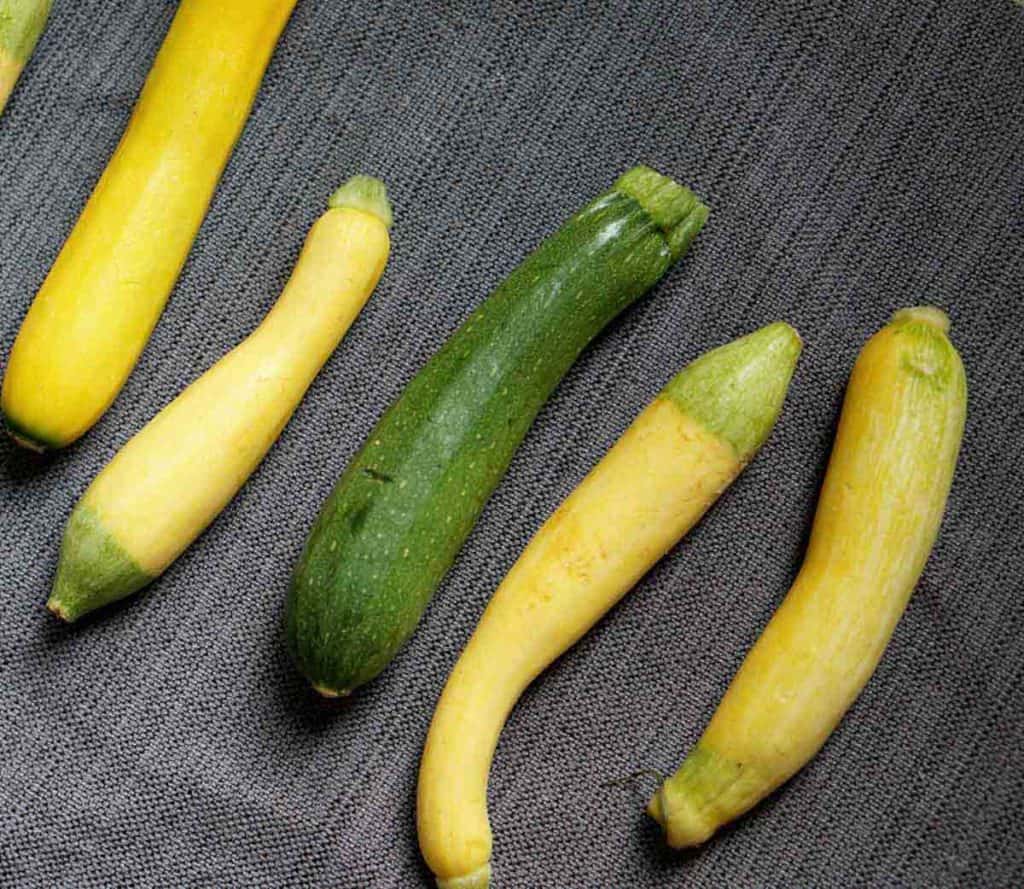 Making it Healthy - gluten, dairy, grain and sugar free zucchini bread
This bread is completely free of grain-based flours, which reduces its glycemic load and in general makes the bread less inflammatory. It is also compliant with the autoimmune protocol, good for diabetics and low carb, low sugar.
The entire recipe is sweetened with just 4 dates. Using the full fruit allows all of the sweetness with the added benefit of the date's natural fiber and nutritional benefit. Without refined sugar, you can enjoy this individual treat regularly without feeling guilty. 🙂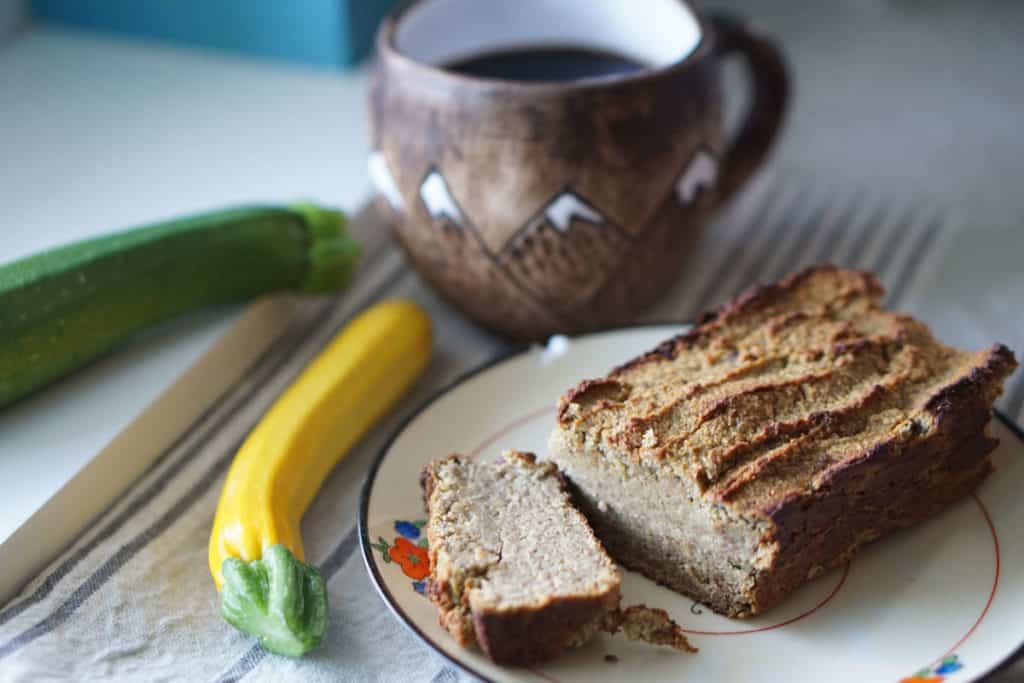 The unexpected side benefit of healthier ingredients is an easier recipe. You can throw all of the ingredients into a blender or food processor and whip them together. Then just pour them into a pan and bake for 30 minutes.
The active time is about 5 minutes for this mini loaf.
Who would have thought that eating clean also saves time?
Looking for more individual sized and healthy treats? How about a single serving lemon almond cake: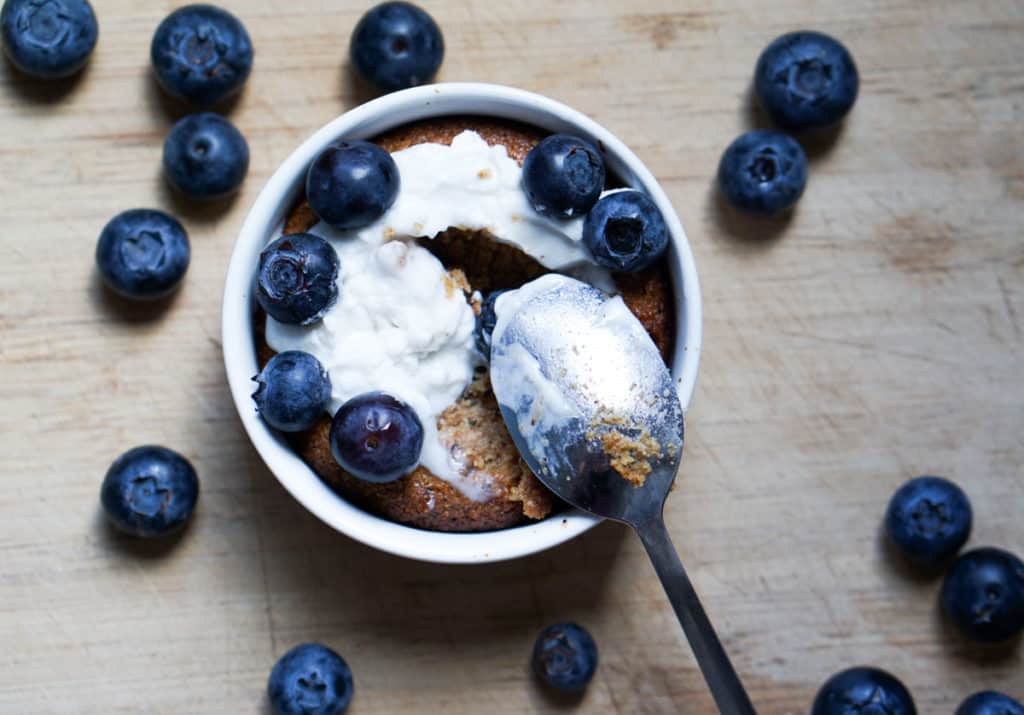 Enjoying a healthy yet indulgent zen-filled morning?
Take a few minutes and whip up this sugar free zucchini bread. 🙂
And I'm a little bit of a liar- I don't just save this for romantic Saturday mornings on the veranda (if we can call my back patio a veranda). This is healthy enough to add to everyday. I personally enjoy it on a random Tuesday for a quick breakfast with my black decaf.
Yums!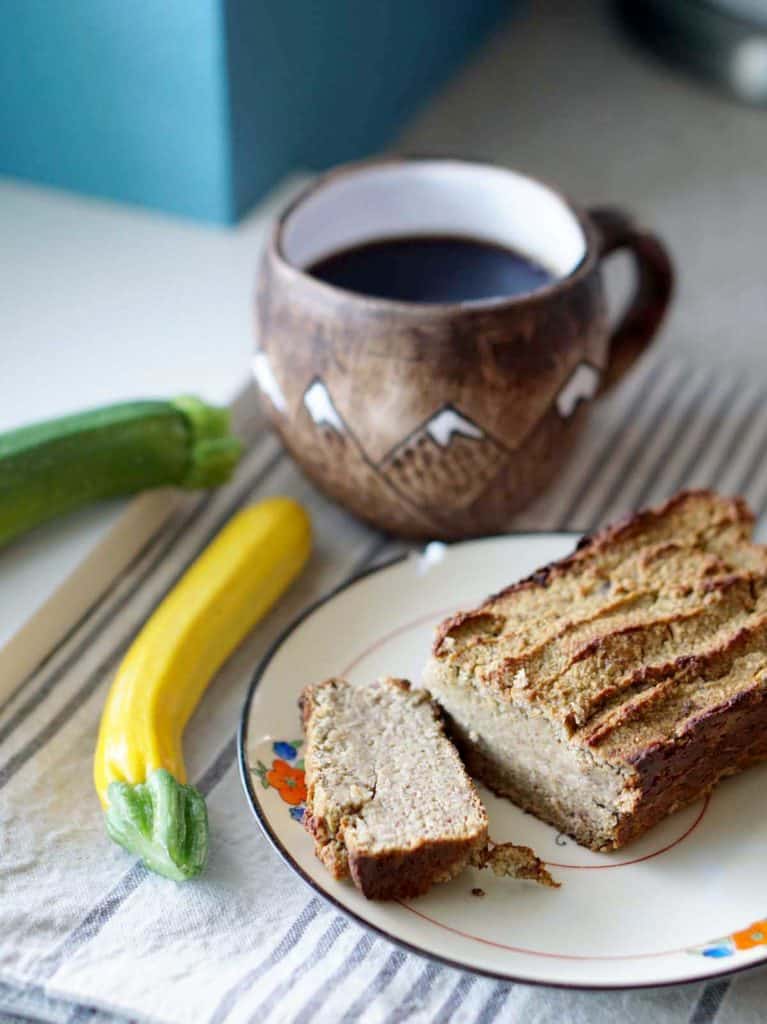 Sharing is Caring - Pin for Later!