I've always wanted to make eggnog from scratch but was a little intimidated, especially when looking at Martha's 3-handle spiked eggnog recipe.
Like, what a waste of booze if you mess it up!

When I finally gave it a go, I found out it was a lot easier than I would have expected to make eggnog from scratch and a lot better than the store-bought versions. This eggnog recipe is dairy-free, but it still has eggs and heavy coconut cream.
Despite that, it feels light and fluffy and oddly refreshing.
This recipe was fun and easy to make. Let me know if you take the plunge and go homemade eggnog for this year's holiday celebration!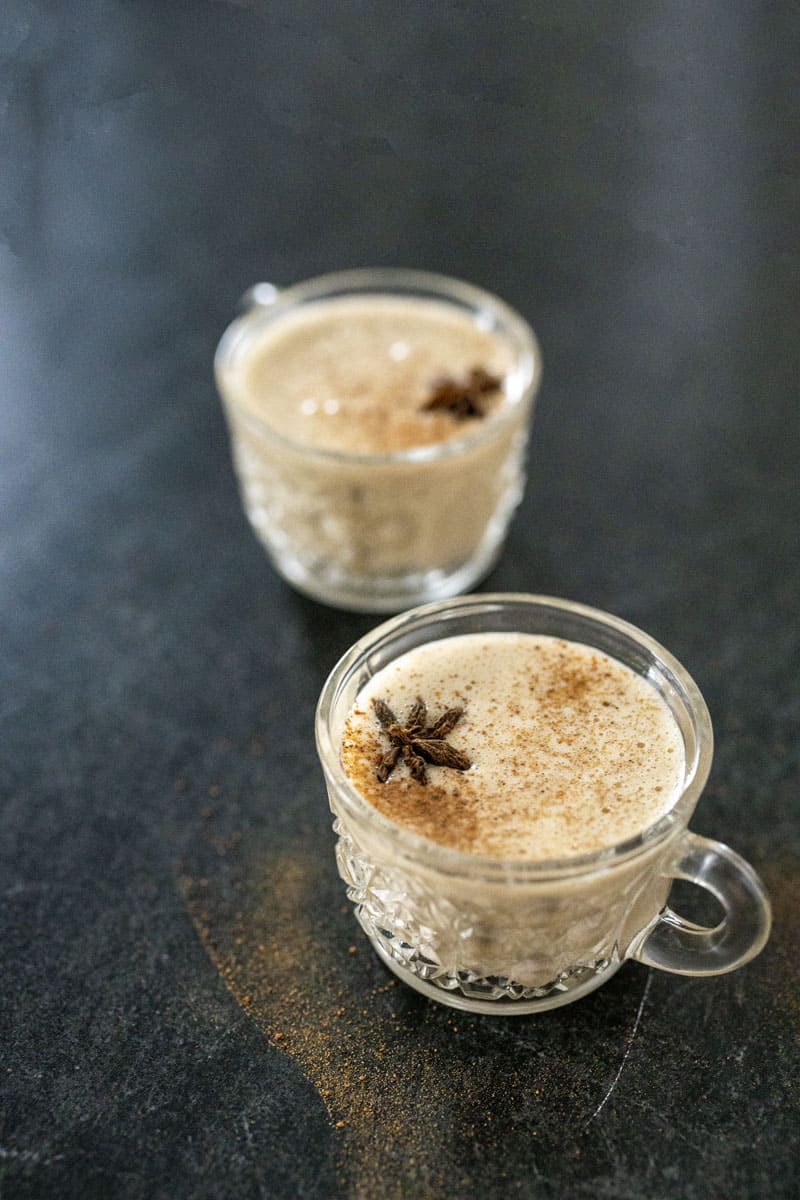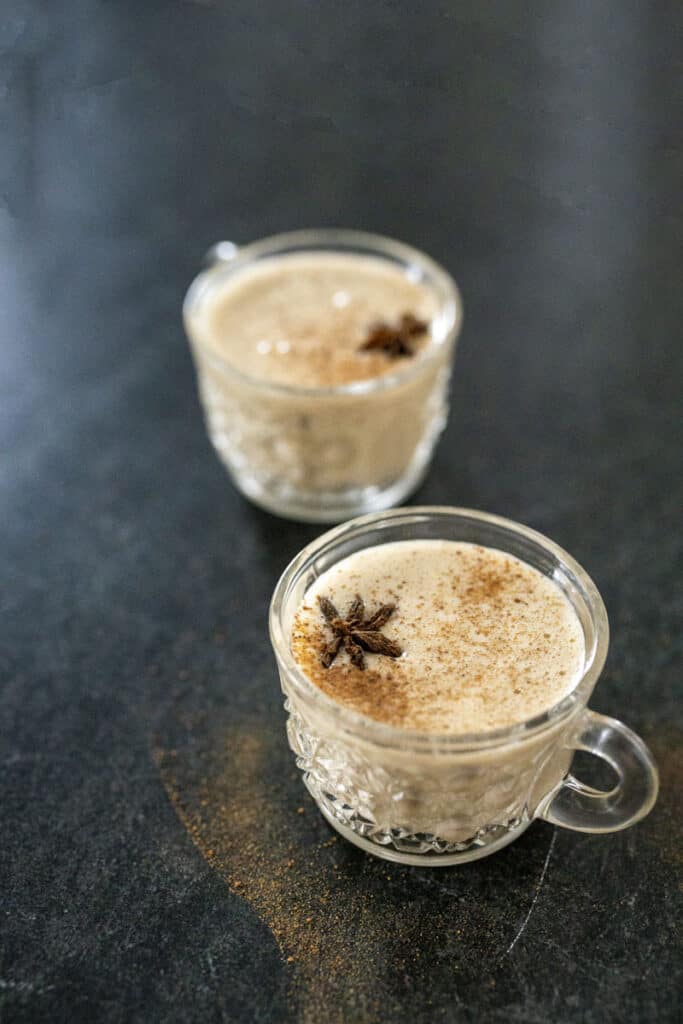 The History of Eggnog
What was also cool to learn is that spiked eggnog originated as a way to preserve eggs and cream from the spring and summer into the fall and winter.
I love that!
The bourbon or dark rum prevents the eggs and cream from going bad.

🔪Making the eggnog
There are 2 parts of this recipe, and they each involve a different part of the egg.
Ingredients
The key ingredients are cream, eggs, spices, maple syrup, and booze.
The booze is actually important for preservation! Spices add flavor, eggs add both rich creaminess and light fluffiness.
This healthier version uses maple syrup for sweetness and coconut cream, but see the variations for alternative options.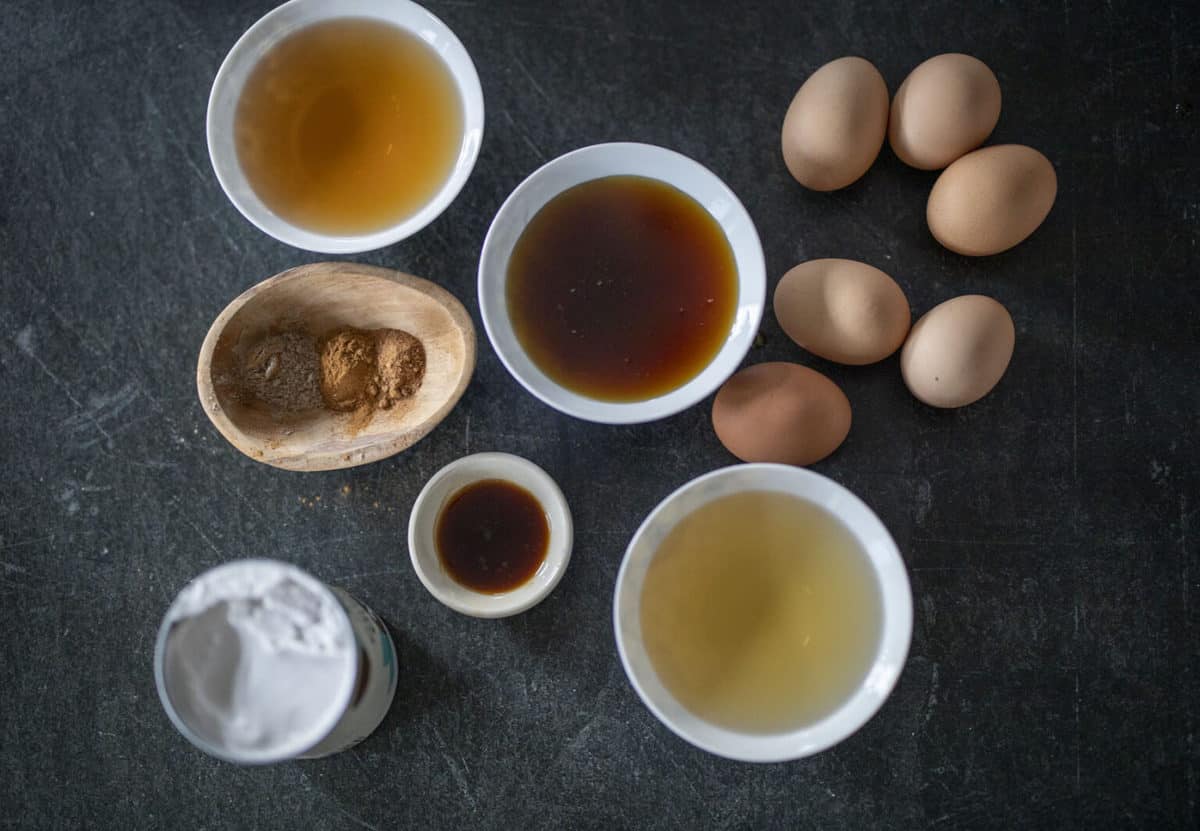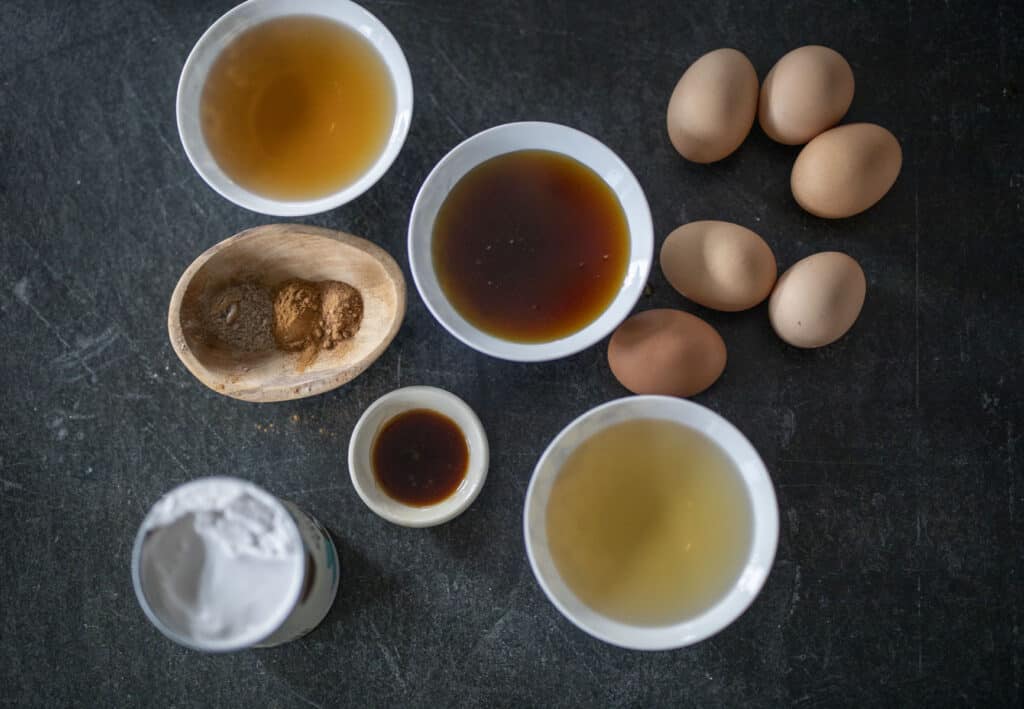 The Yolks and Booze
The yolks are whisked with all other ingredients, excluding the egg whites. You can, and it is recommended, to mix the bourbon, cream, yolks, and spices ahead of time. Like all good sauces and flavors, the drink melds and the flavors intensify the longer this sits. This site recommends mixing this part 1-14 days ahead of serving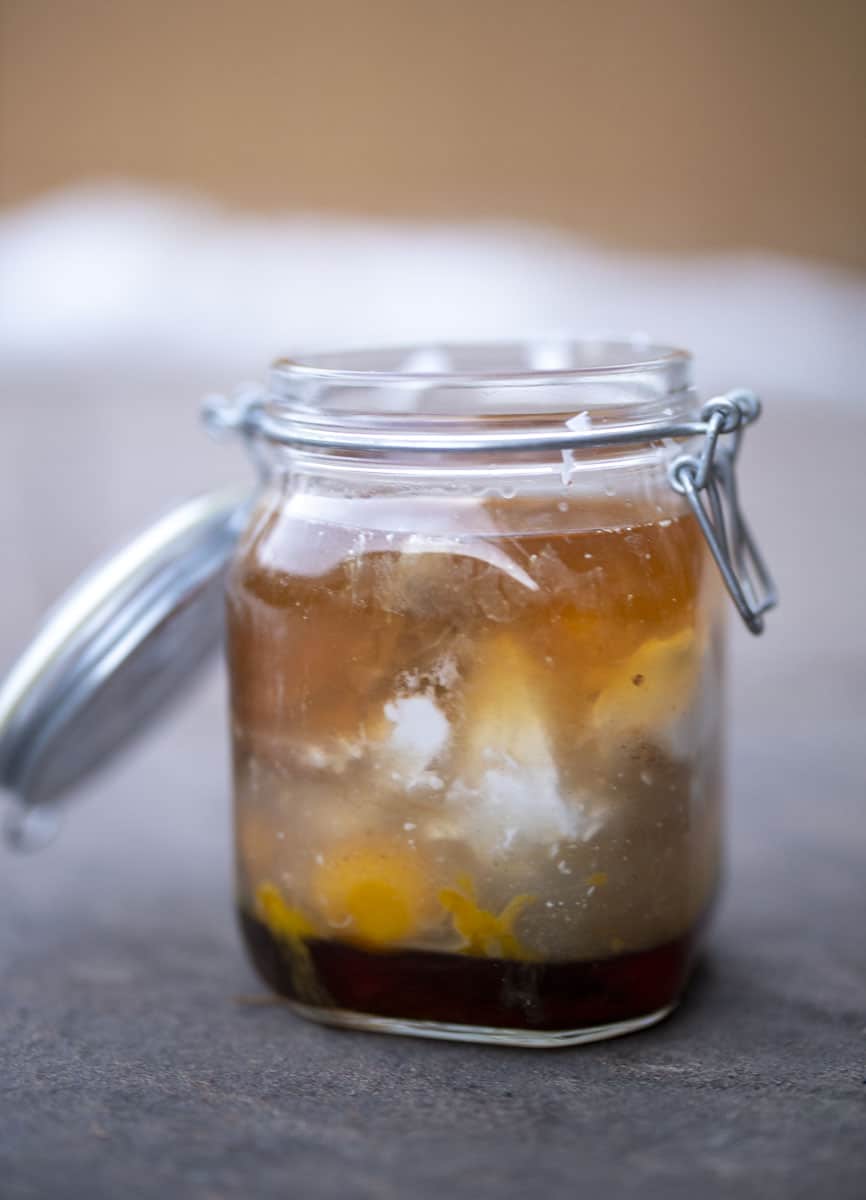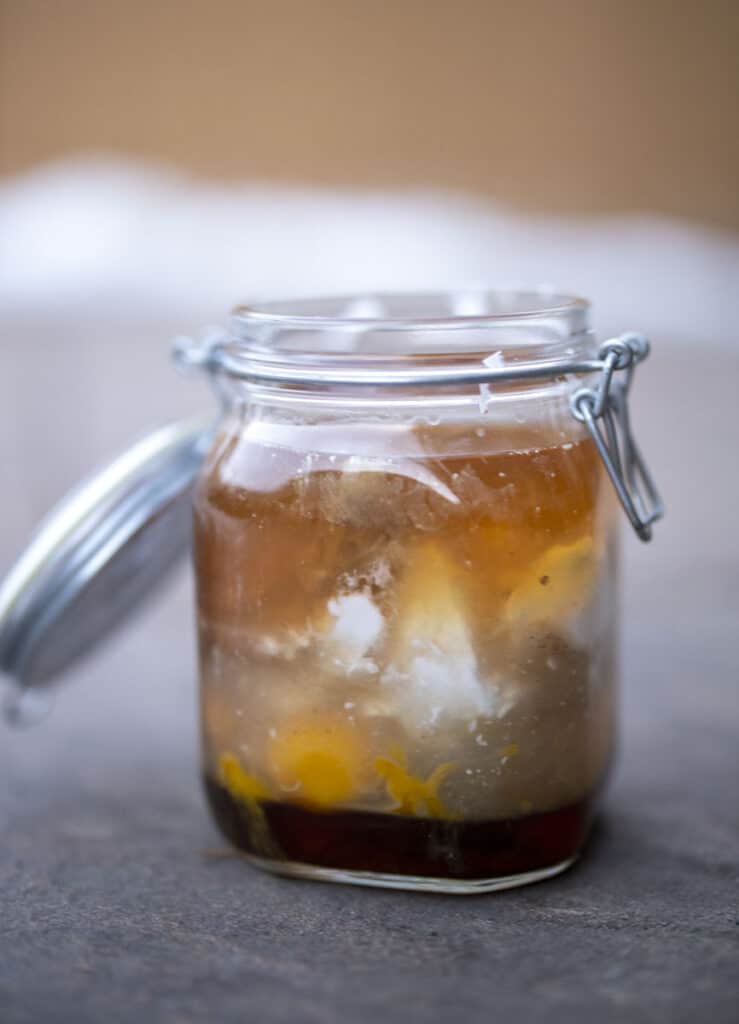 The Whites and Fluffiness
The second part of the recipe is only one ingredient, but it makes the eggnog fluffy and light. You whip the cold egg whites until the peaks are fluffy and stand firm, similar to a merengue. Be careful not to over-whip the eggs so that they still blend evenly into the yolk mixture.

When you are ready to serve, simply fold the whipped whites into the bourbon, yolk, and cream mixture. Then serve and enjoy!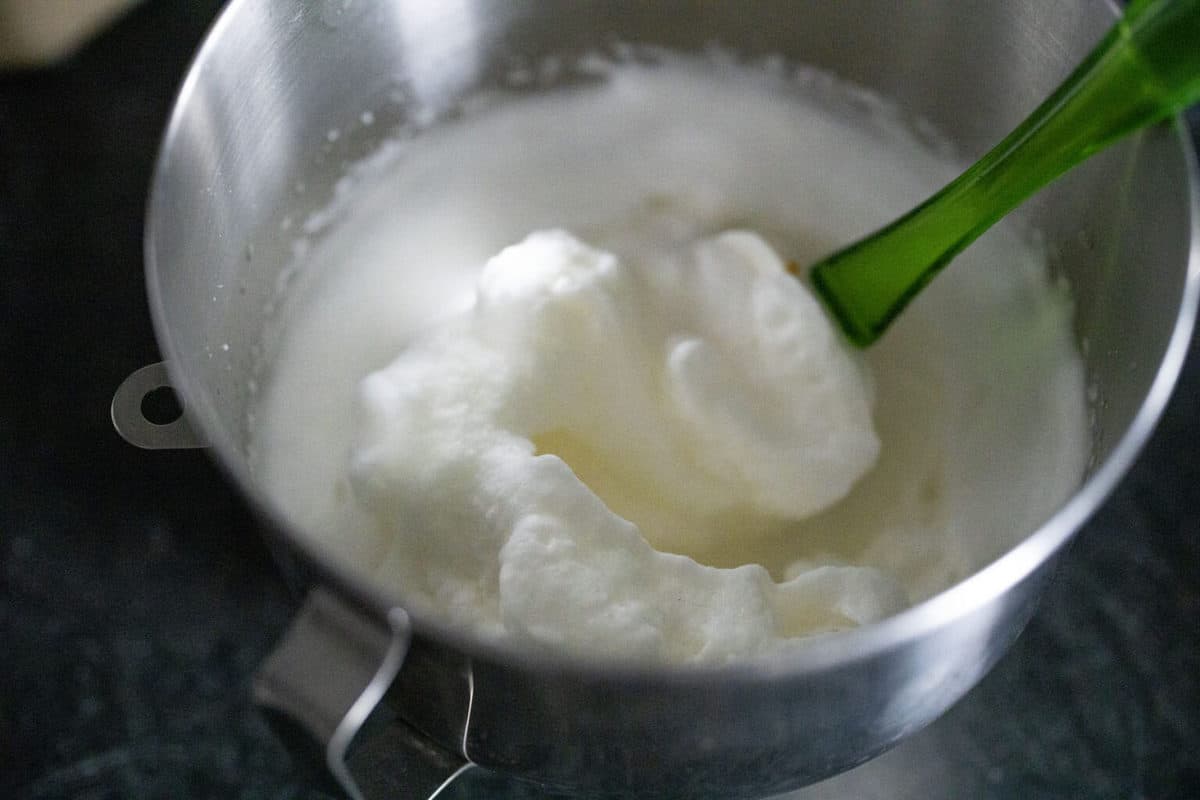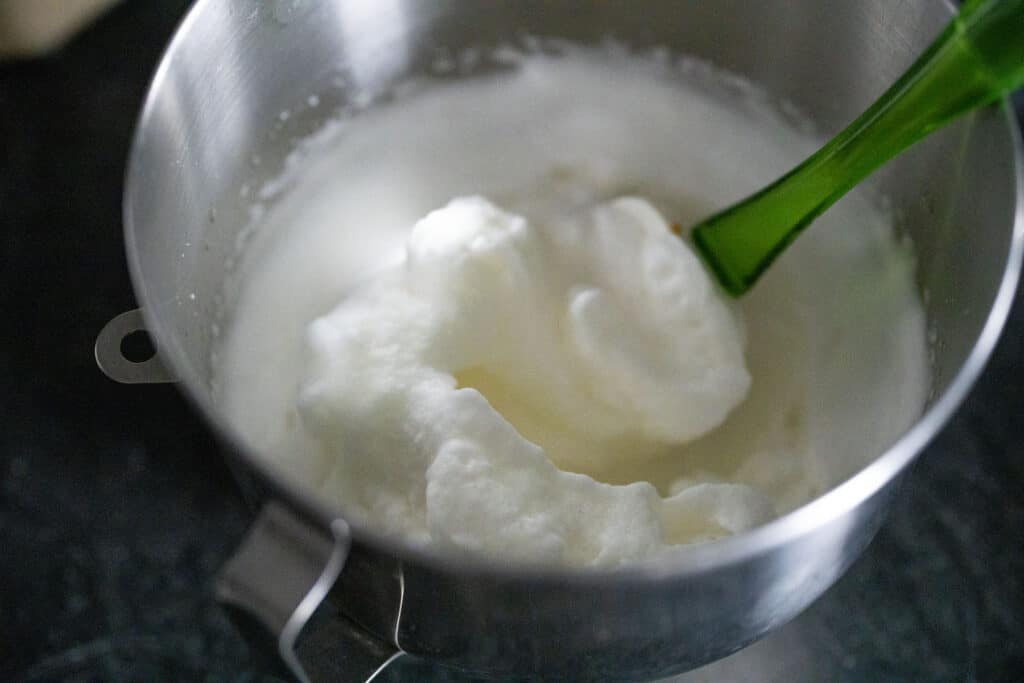 🍽 Equipment
You'll need electric beaters or a stand mixer with a whisk attachment to whip the egg whites.
A large sealable mason jar works great to store the yolk mixture or the finished eggnog.
Use a good rubber or silicone spatula to fold the whites into the egg mixture.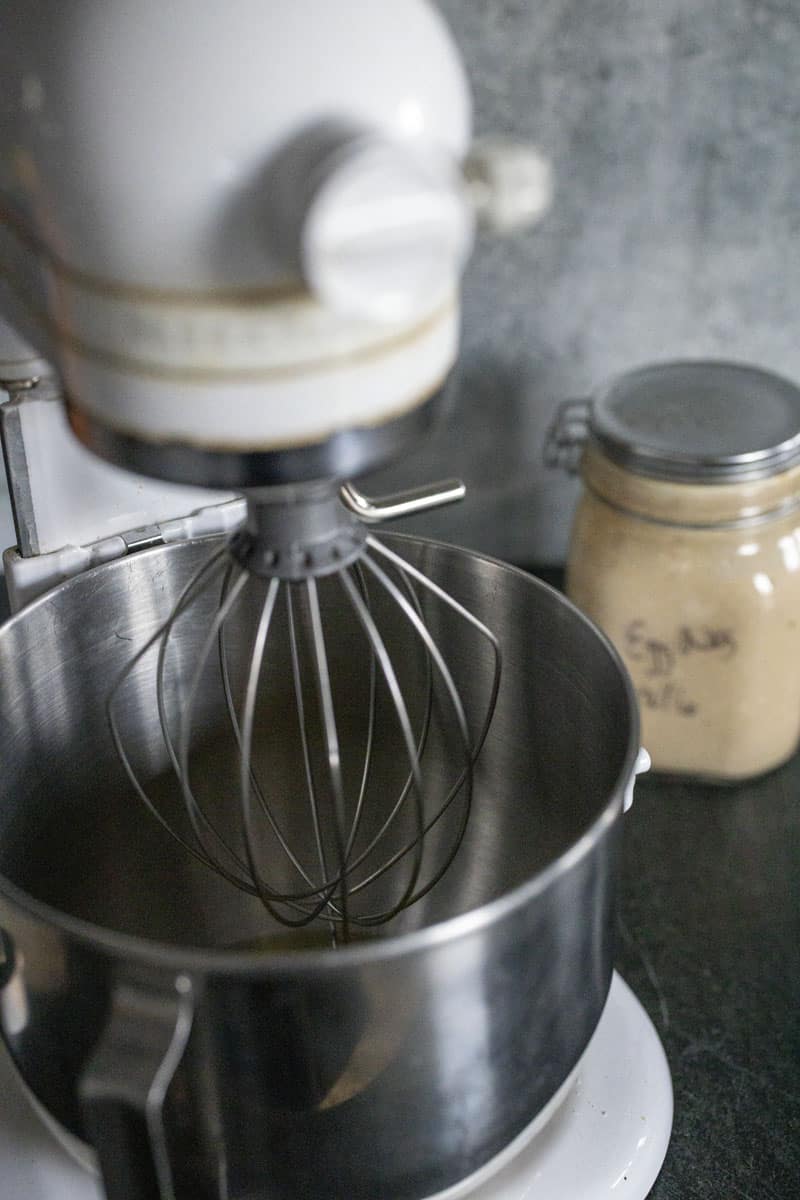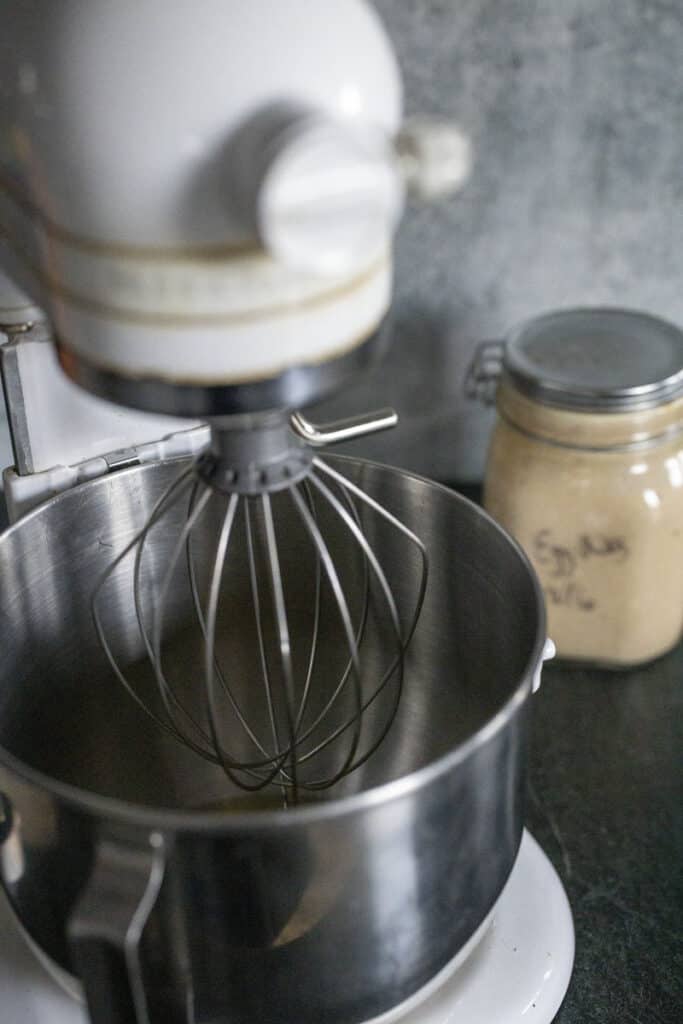 How to Serve Eggnog
Eggnog is, of course, best served over ice and with freshly grated nutmeg.

You can use ground nutmeg, bet there's a tad more atmosphere and freshness when you grate it freshly. Try this nutmeg grinder. It also makes for very fancy homemade lattes every morning.

The other benefit of using full nutmeg and grinding it fresh is that full nutmeg is less likely to be sprayed with pesticides and antimicrobials in the distribution chain.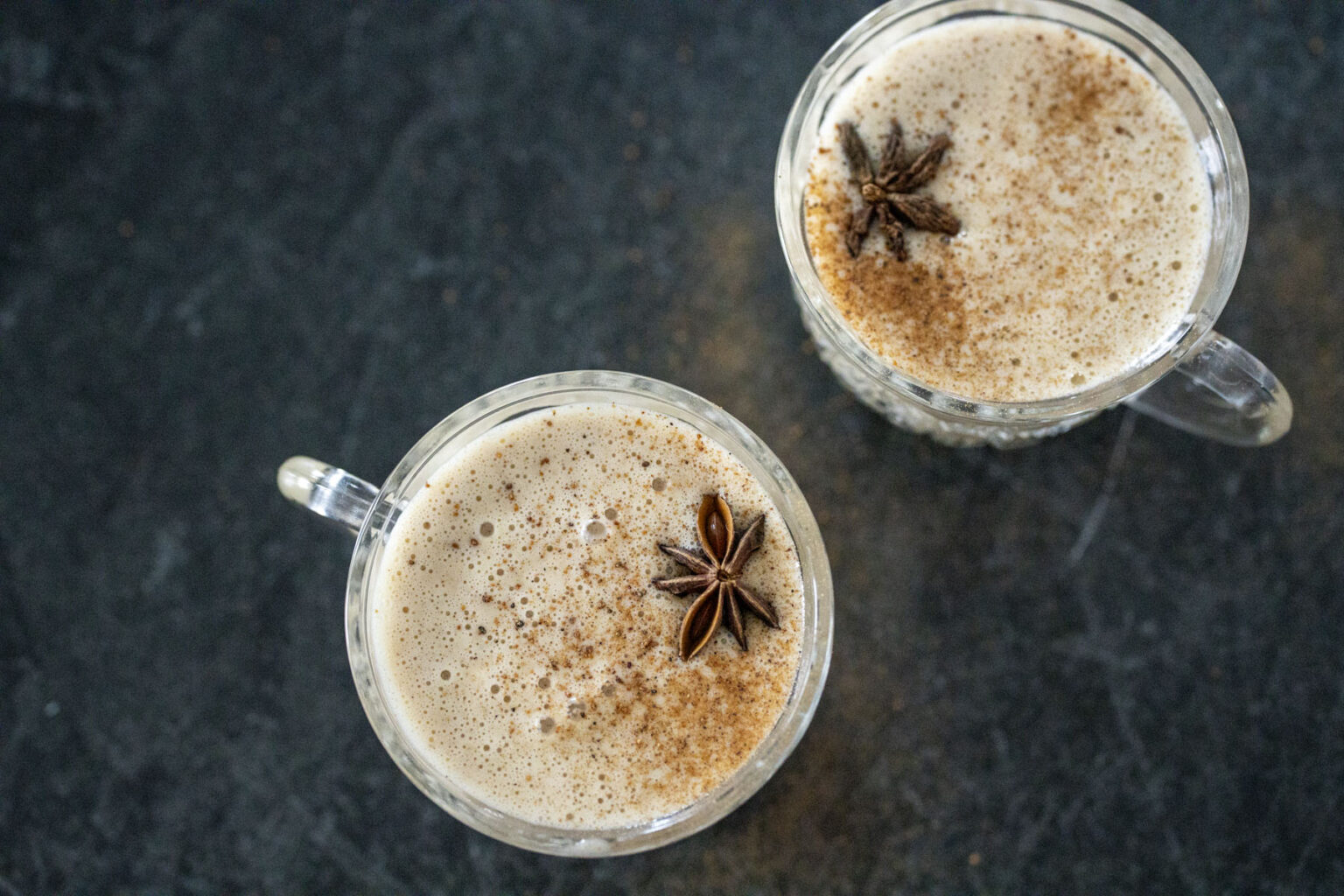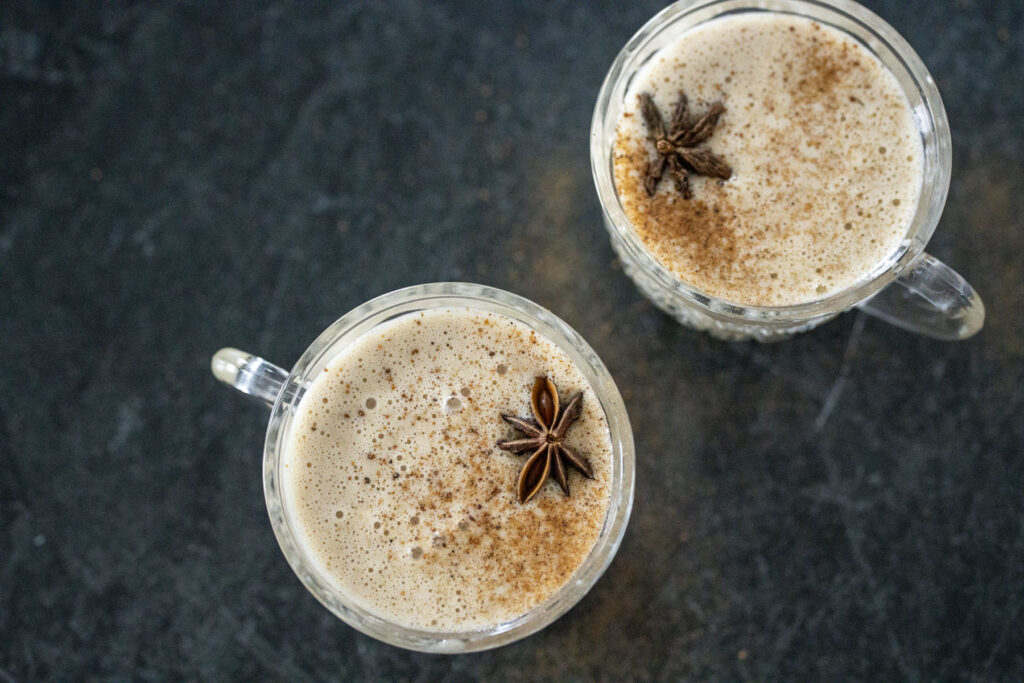 📋 Spiked Eggnog Recipe
This recipe is spiked to honor the traditional recipes used to preserve foods.
The bourbon or rum was mixed with eggs and cream to prevent it from going bad and preserve those nutrients into winter in the era before refrigeration and year-round agriculture.

To stay true to the OG intent of eggnog, this eggnog recipe is also spiked.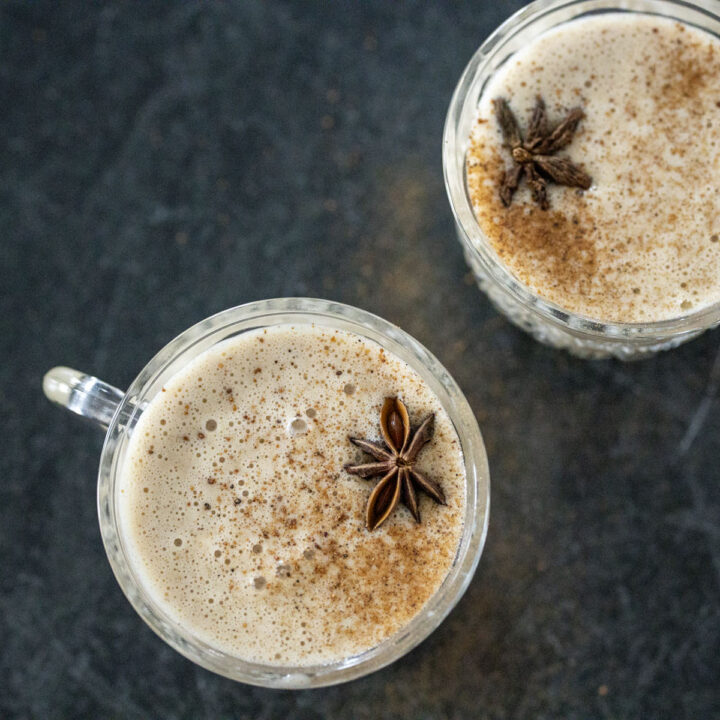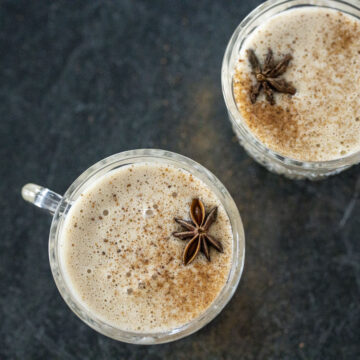 Traditional from scratch dairy free Eggnog
A surprisingly easy to make and light and fluffy spiked eggnog recipe. You'll be making from-scratch dairy-free eggnog for all your future holiday parties with these recipes.
Print
Pin
Rate
Equipment
Electric mixer with a whisk attachment
Ingredients
6

large eggs

1/2

cup

maple syrup

1

can

coconut cream

13.5 oz

1

tsp

cinnamon

1

tsp

nutmeg

1

tsp

cardamom

1

tsp

vanilla extract

1/2

cup

bourbon

use high-quality bourbon for a good tasting drink

1/2

cup

aged rum

use high-quality rum for a good tasting drink
Instructions
Separate eggs. Set whites aside.

Hand whisk yolks with all other ingredients. Make this portion up to 2 weeks in advance. Best if done at least 1 day before serving.

When ready to serve, whisk whites in a mixer with a whisk attachment on high speed until peaks are firm. about 3-5 minutes. Make sure not to over-whip.

Fold whites into the yolk mixture.

Serve with freshly grated nutmeg and enjoy!
Notes
Gently fold the whipped egg whites into the yolk mixture for a light final product.
The eggnog with the alcohol mixed in will store for a couple of months in the fridge though it doesn't typically last that long.
This is a thick drink, so small servings around 2-6 oz work best. Serve with dusted nutmeg and an anise star.
Nutrition
Calories:
111
kcal
|
Carbohydrates:
6
g
|
Protein:
2
g
|
Fat:
6
g
|
Saturated Fat:
5
g
|
Cholesterol:
41
mg
|
Sodium:
17
mg
|
Potassium:
87
mg
|
Fiber:
1
g
|
Sugar:
5
g
|
Vitamin A:
59
IU
|
Vitamin C:
1
mg
|
Calcium:
17
mg
|
Iron:
1
mg
This nutrition information does not tell the whole story of food's nutritional value! Make sure to use your gut intuition on what your body needs, eat your veggies and get 30 plants a week for optimal gut health. This nutritional data is calculated based on above values and standard brands. This information may vary.
♻️ Variations
Alcohol
I used 1 cup of total alcohol for the entire recipe and split it between dark rum and bourbon. I feel that the combination of the flavor profiles works best.

However, you can use all bourbon or all rum if you prefer one liquor over the other. You can also play with quantity, ranging from 1/2 cup to 1 1/2 cups of the total alcohol.

This range of alcohol should keep the eggs and coconut cream preserved for that 1-14 day range before serving.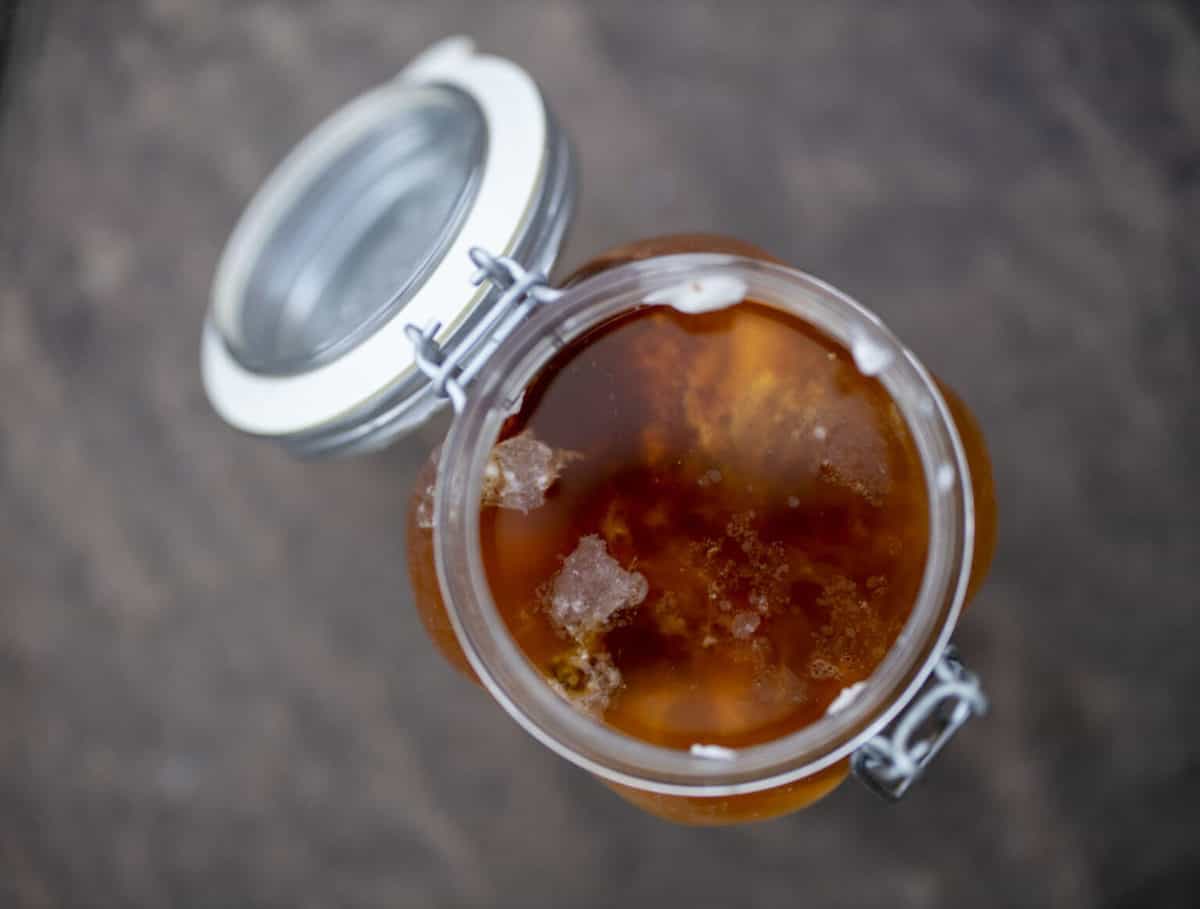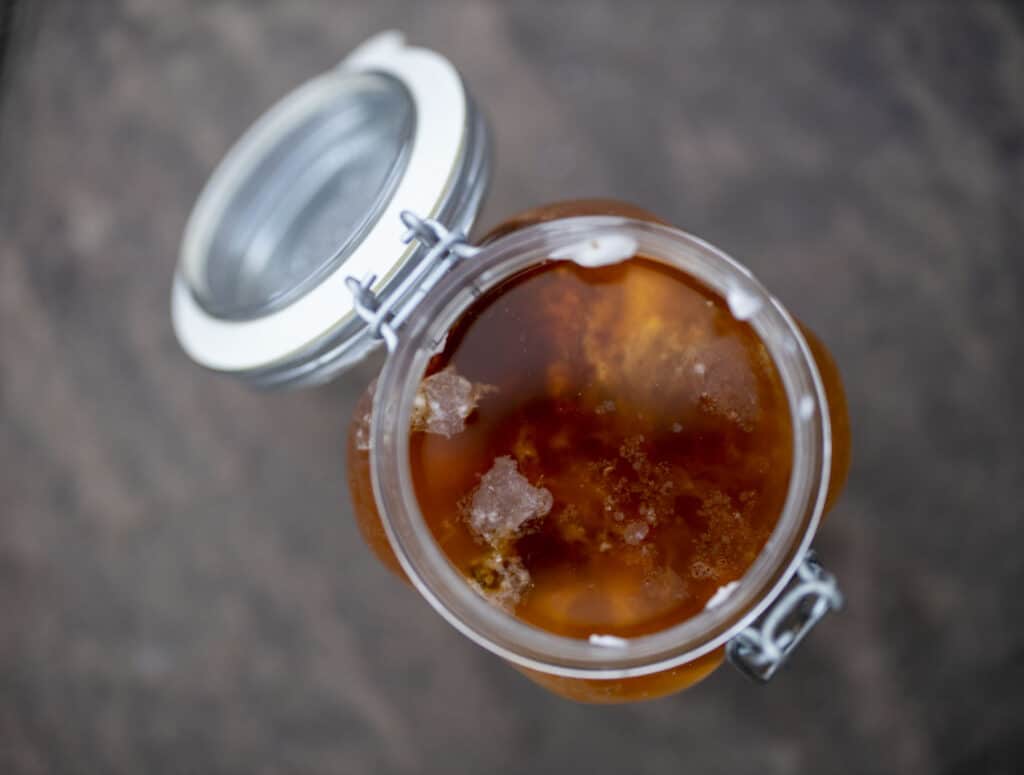 Dairy vs Coconut
I prefer coconut cream because my body reacts better to it and I prefer the taste. However, this recipe will work just as well with heavy cream or whipping cream instead of coconut cream. Just use the same volume.
Lighter Eggnog
Eggnog is meant to be fatty, rich and delicious, but I totally understand if you want to take it down a notch.
To make this lighter, you'll want to use coconut milk instead of cream or add 1/2 coconut cream and 1/2 water.
If you are using regular dairy, opt for full fat milk instead of cream.
💭 Top tip
Prepare and store the eggnog except for the egg whites several days ahead of time. This allows the flavors to meld.
Before serving or gifting, whip the egg whites and gently fold into the yolk mixture. You want to be sure to leave as much fluff in the whipped egg whites as possible.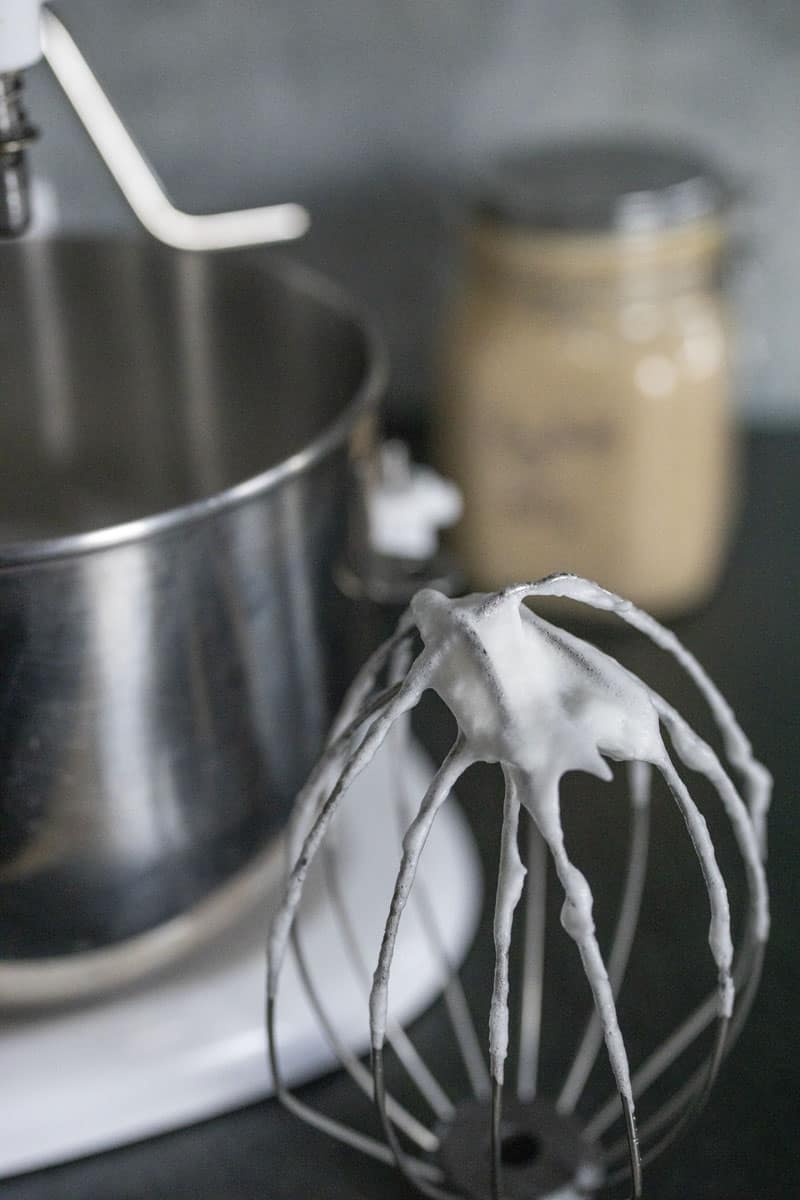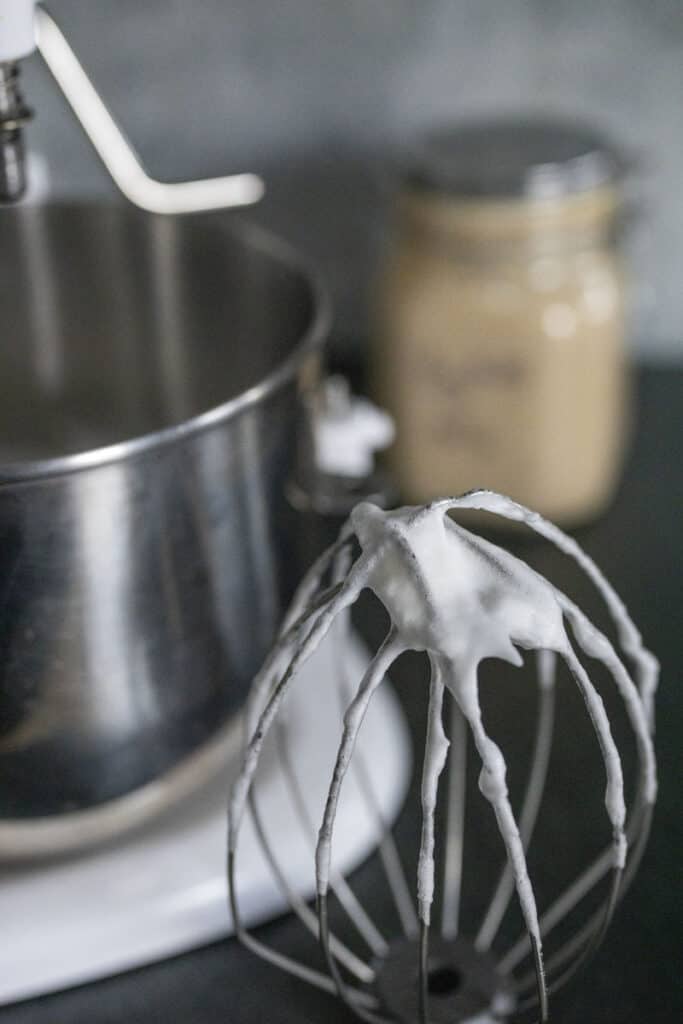 🎁Gifting
This makes an excellent gift! Share in Kolsch bottles or sealed mason jars.
I recommend writing a few instructions on the label
Spiked
Separation is natural, give a nice shake before serving
Serve with nutmeg and an anise star
Good for 1-2 months in the fridge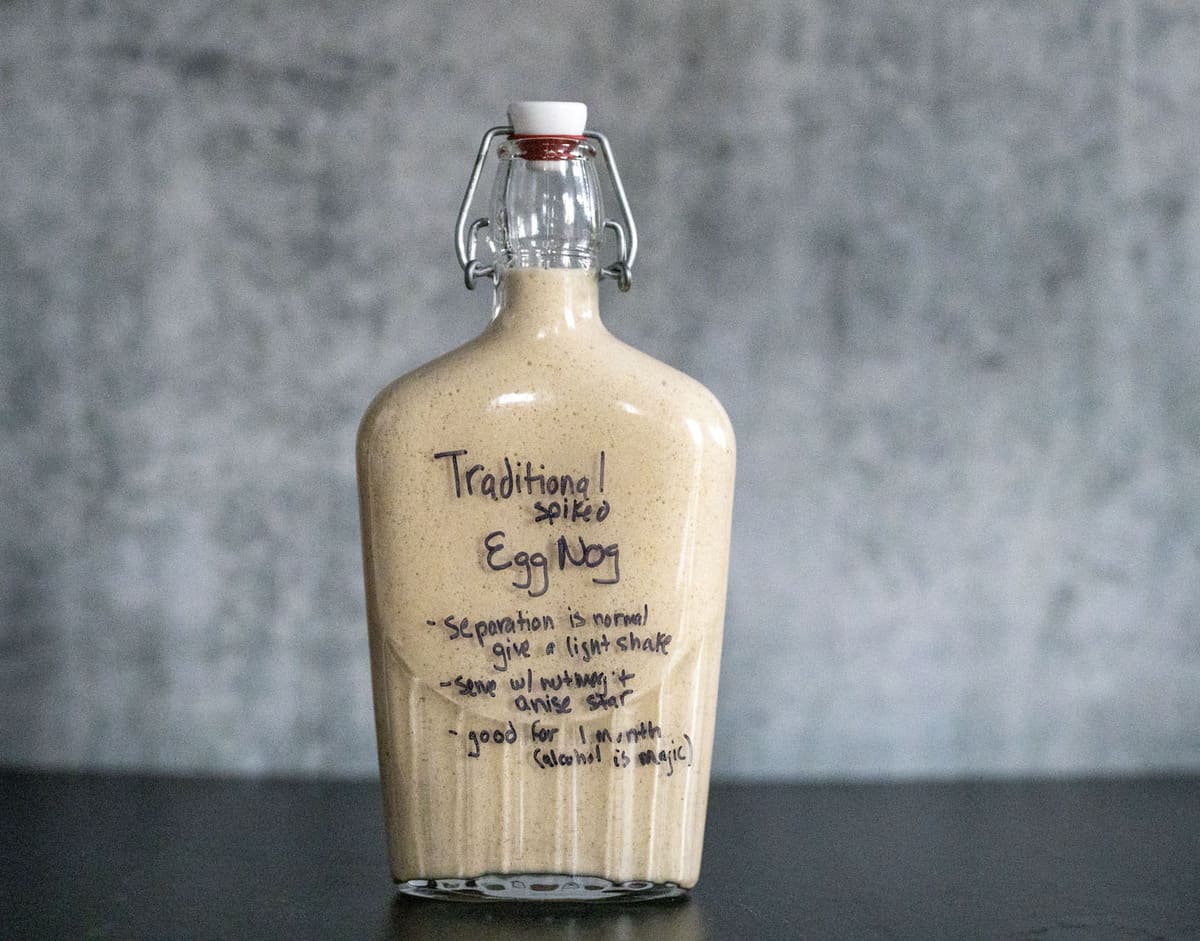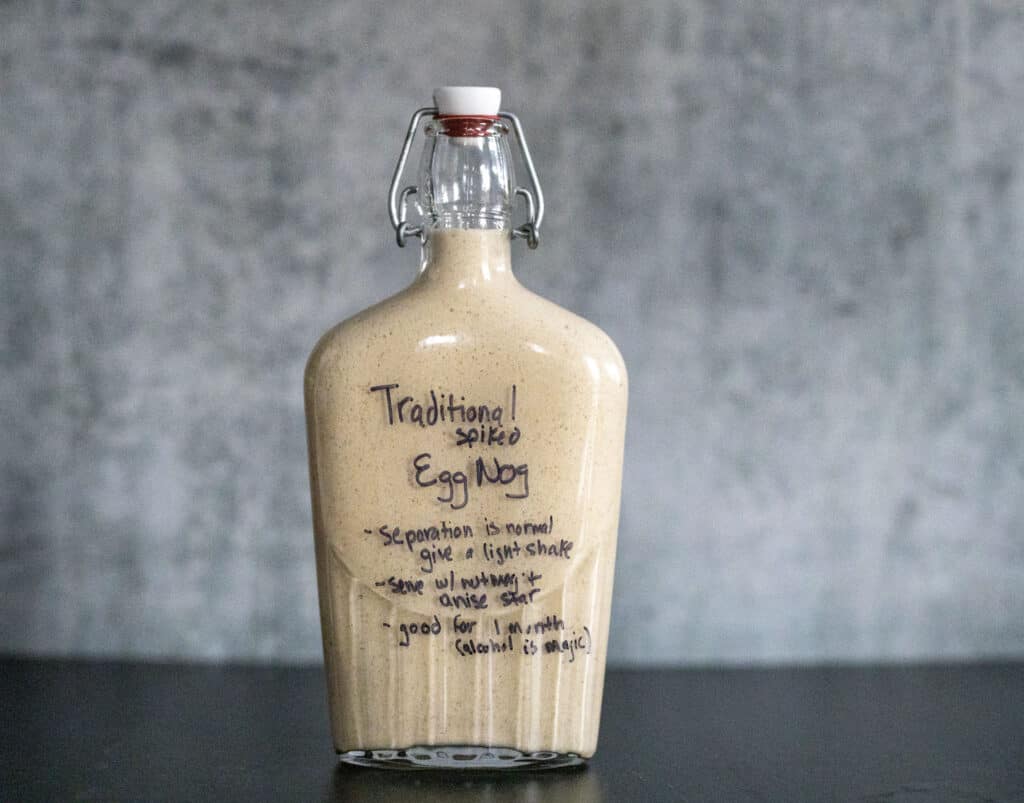 🥗 Pairings
Serve with dusted nutmeg and an anise star.
This eggnog would pair excellently with this spiced cake, English toffee bars and classic Christmas cut out cookies!