Last weekend was national PB&J day and I felt the need to celebrate! I randomly decided to google food holidays recently and it's amazing how many there are. I basically have my menu mapped out for the next month with all of the obligatory celebrations. (Sunday was chocolate mousse day- how can you NOT celebrate!?) Anyways, PB & J was one of the most exciting food holidays on the list.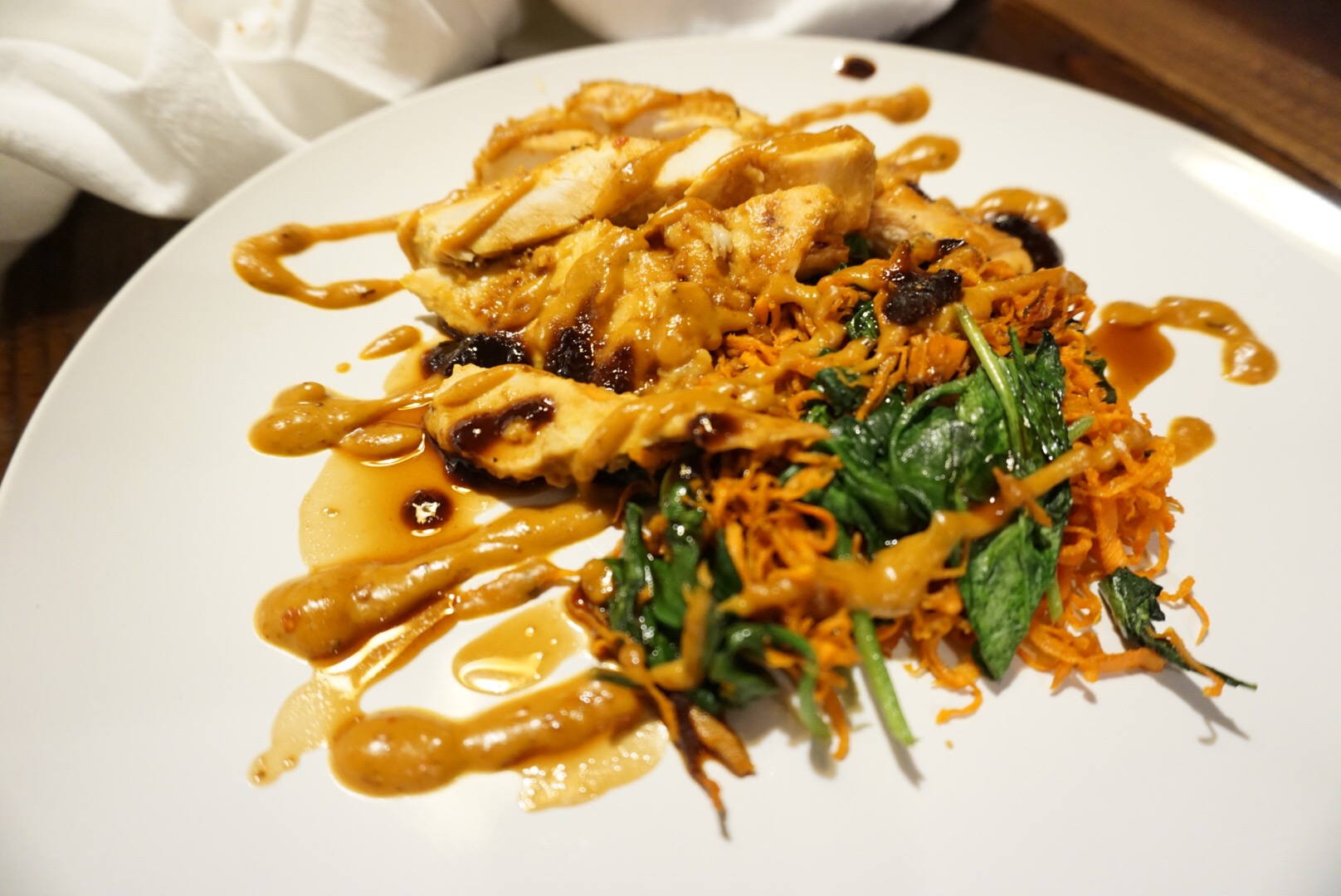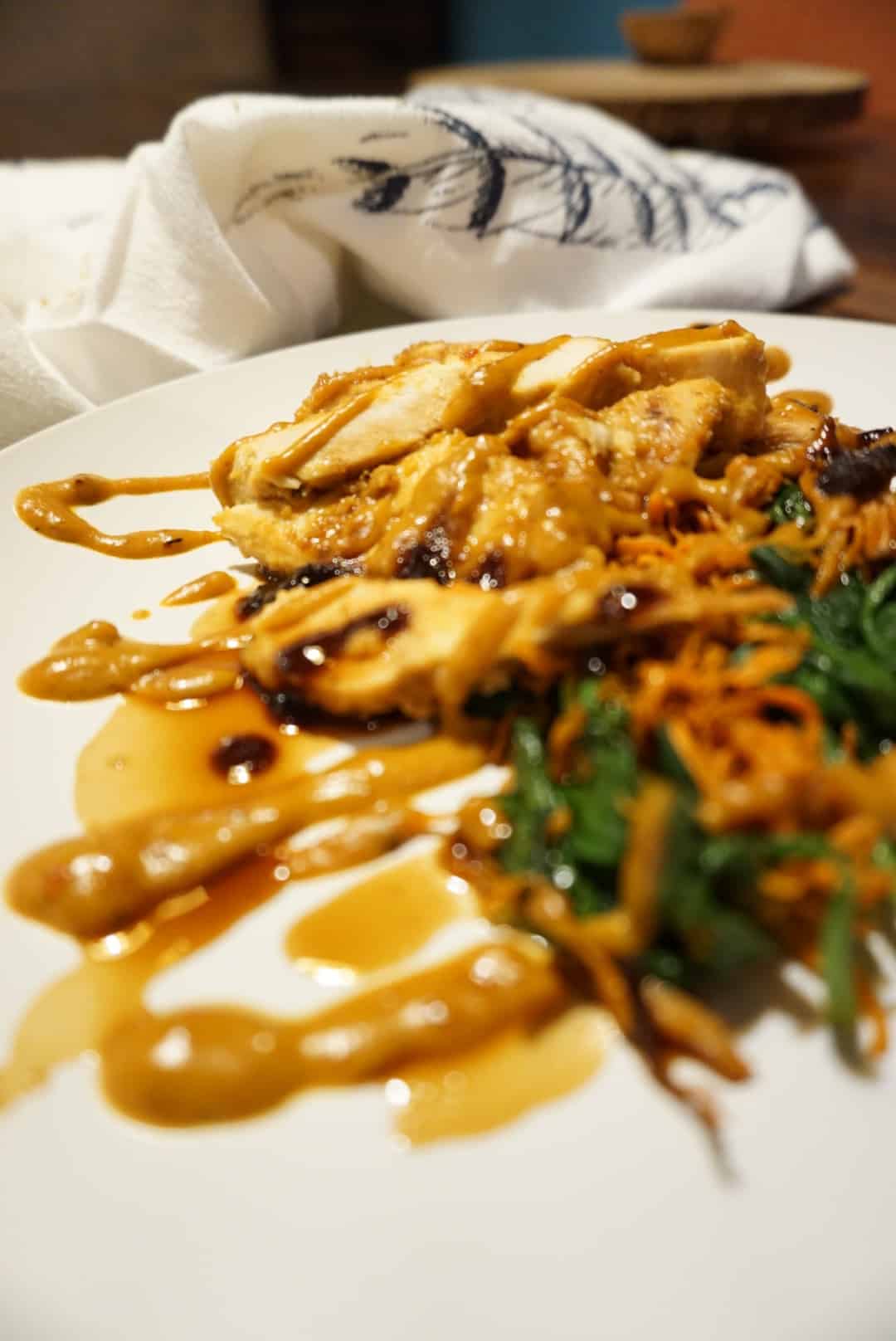 I love the combo of fruit and peanut butter so my mind immediately started racing with ideas for peanut butter jelly day: peanut butter muffins with jam: PB&J pancakes; nut and berry green smoothie; peanut butter wings with jam dipping sauce... the list goes on. I finally decided on a PB&J inspired faux pasta dinner. I made a Thai inspired peanut sauce which is one of the best savory uses for peanut butter, super easy to make and delicious on chicken. Then I saw some fig ginger jam at the store and knew this was a match in heaven. I mean - ginger and Thai - it's perfect!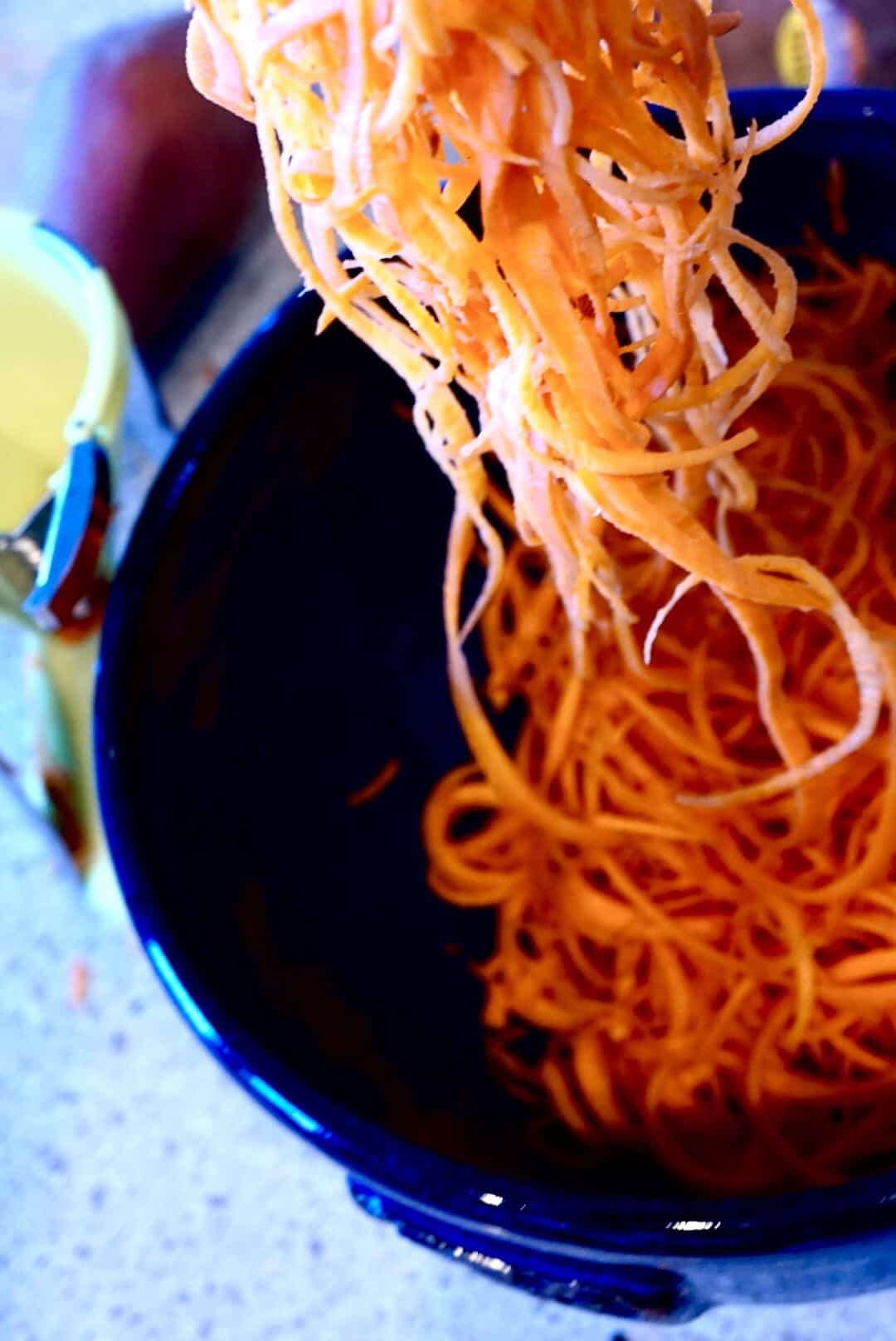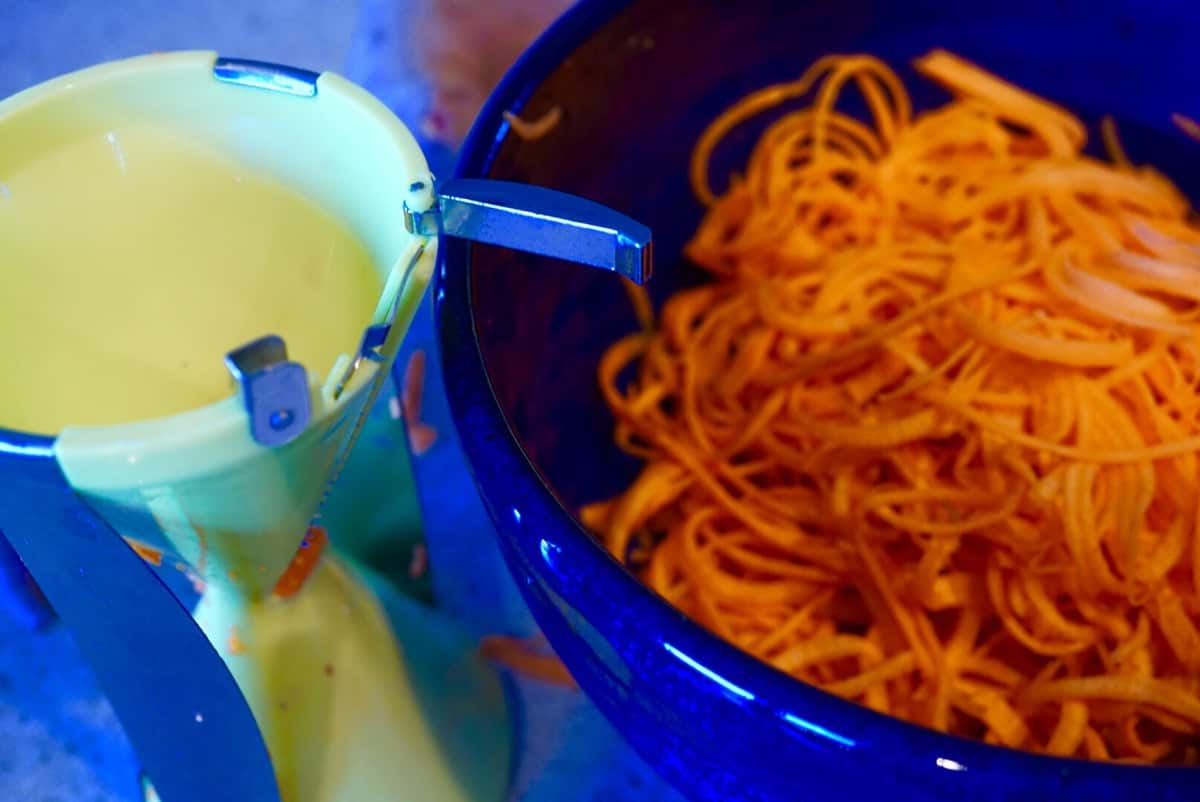 I pulled it all together atop sweet potato noodles with some spinach mixed in just because you can never go wrong with greens. Shredded carrots, collard greens, kale, zucchini, bean sprouts and/or cabbage would also be good to mix in depending on what you're craving or have on hand at your house.
It was a hit at our house. All diners became members of the clean plate club.
How do you feel about PB&J day? Will you be celebrating? If so, tell me the delicious ways you love to mix these two beautiful ingredients in the comments!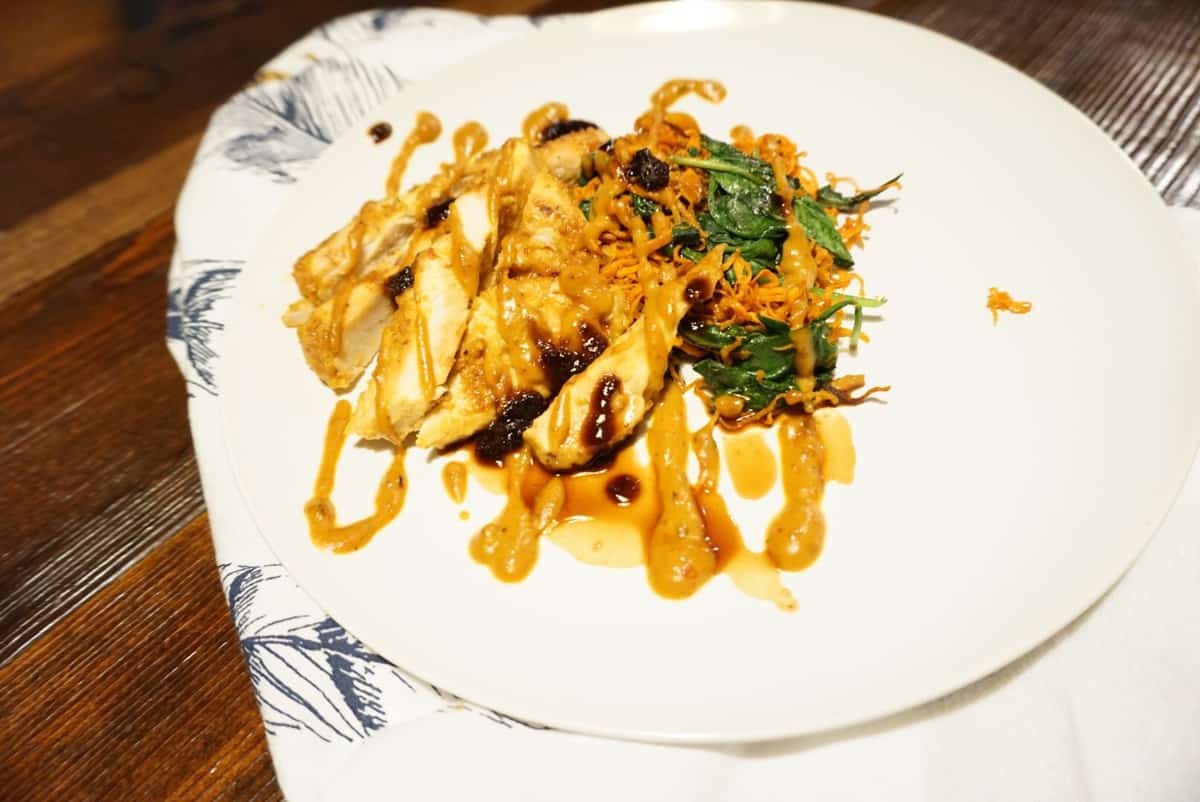 Serves 4
Ingredients:
sweet potatoes, 3, slender enough to spiralize
chicken breasts, 3, butterflied (we found 3 breasts were perfect to split between 4 people, but feel free to adjust this depending on the amount of chicken you want and how big of cuts you get)
spinach
fig ginger jam
Sauce Ingredients:
peanut butter, 3/4 cup
water, 1/2 cup
siracha, 1 tbsp
olive oil, 1/2 tbsp + 1 tbsp
crushed garlic, 1 tsp
ginger powder, 1/8 tsp
turmeric, 1/2 tsp
coconut aminos, 1/2 tbsp (can sub for soy sauce or tamari or fish sauce if you reduce the salt)
salt, 1/4 tsp
black pepper, 1/8 tsp
chili flakes, 1 tsp
pepper
Tools:
Directions
preheat oven to 350
spiralize the sweet potatoes to form long noodles
mix peanut butter, water, and all sauce ingredients in small sauce pan on low heat until well blended
pour 1/2 peanut sauce over butterflied chicken in 9x13 pan. Ensure chicken is evenly coated and bake in oven for 35-40 minutes or until cooked through.
mix the sweet potato noodles with 1 tbsp olive oil and salt and spread out as thinly and evenly as possible on a cookie sheet. Bake until tender and cooked through 35-45 minutes. They will reduce in size
mix jam with water on low heat until well blended. You are looking for a consistency that will allow drizzling. If you buy a thick jam you will have to thin it out and strain it to remove the seeds. If you make your own reduction, reduce until the consistency of syrup.
saute spinach on stove top and mix in sweet potato noodles.
slice the chicken into strips
create little nests on each plate with the sweet potato and spinach combo
top each sweet potato nest with chicken strips
drizzle with peanut sauce and ginger fig jam reduction
serve and enjoy!