Dark and homemade white chocolate with actually healthy ingredients (maca root, coconut butter, and cacao butter) melted together into suns and moons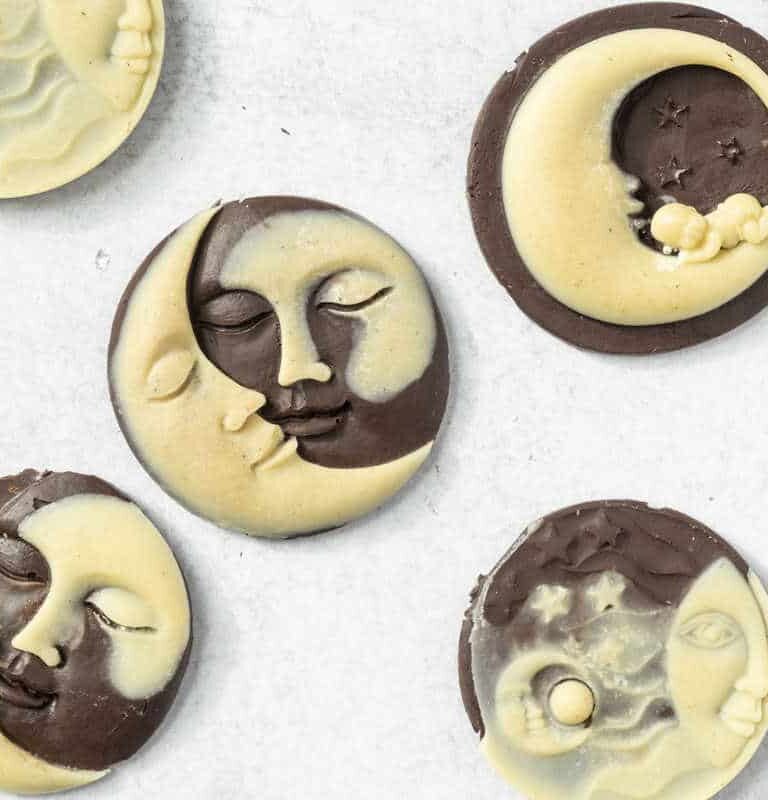 White + Dark Chocolate Moons
Description
Dark and homemade white chocolate with actually healthy ingredients (maca root, coconut butter, and cacao butter) melted together into suns and moons
Homemade Healthier White Chocolate
Dark Chocolate
Instructions
Melt all white chocolate ingredients in a pot on the stovetop on very low heat

Whisk white chocolate ingredients together until combined, making sure not to overheat or burn the mixture. Remove from heat and let cool for a couple of minutes

Pour a thin layer of white chocolate into the deepest parts of the molds. Set the molds in the fridge for 5-10 minutes to harden

Melt dark chocolate in a double boiler or for 2 minutes in 25-30 second increments, stirring in between.

Pour dark chocolate into a thin layer on top of the white chocolate in the molds. It should cover the bottom surface area of the molds.

Place molds in the refrigerator for another 10 minutes or until the chocolates set
Note
The white chocolate can easily burn. Because there is no dairy, everything has a lower melting point. 
Make sure to keep it on low heat and do not leave the mixture on the heat for too long. 
Although you will have hot melted chocolate, it is important that it's not too hot when you put the chocolate into the molds. Silicone molds should be food safe to reduce transferring chemicals from the molds into the chocolate. Yu can further reduce the risk by making sure the chocolate isn't too hot when transferring. After melting the chocolate, let it cool enough that it still flows easily but is not too hot.