My office just became a associated with a CSA program! For those of you who aren't familiar, that is a local group of farmers that put together boxes of fresh produce at a very good price. The deal is you pay for a box and then you get whatever the farmers have an abundance of. It's basically like getting a bunch of homegrown garden vegetables without having to do any of the gardening - which is great for the travelers of the world and those with black thumbs. I happen to fall into both of those categories 😉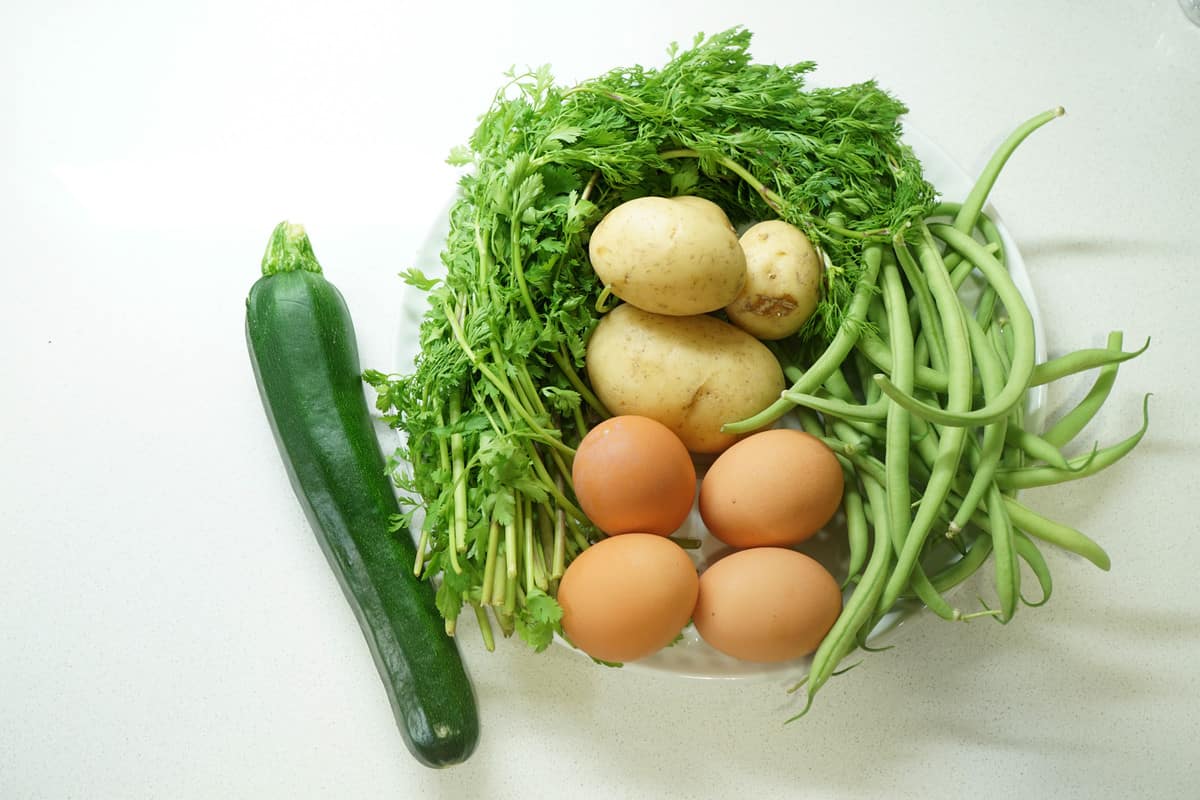 Typically there is a ton of food in the boxes so we split one box amongst our team. That way everybody gets a little bit and it's less likely some of the food goes bad. 🙂 And since I travel for work and I'm not taking zucchini and egg on the airplane, I need to use ALL of my share within 2 days!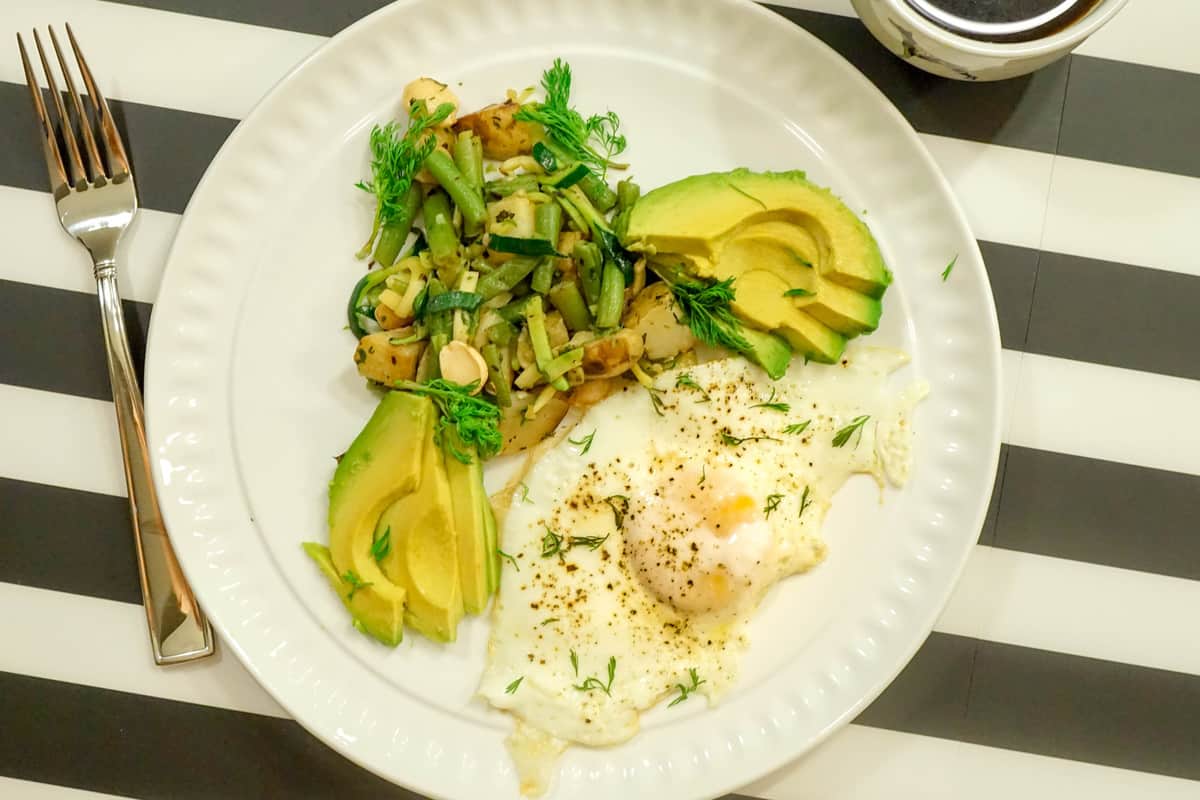 This week we got blueberries, raspberries, 2 packs of strawberries, golden potatoes, zucchini, greens beans, dill and cilantro. I also ordered a dozen farm fresh eggs, because I'd much prefer farm fresh than grocery store eggs! 🙂
Looking at the beautiful bounty, all I could think of was hash! Fresh veggie and potato hash with farm-fresh eggs on top 🙂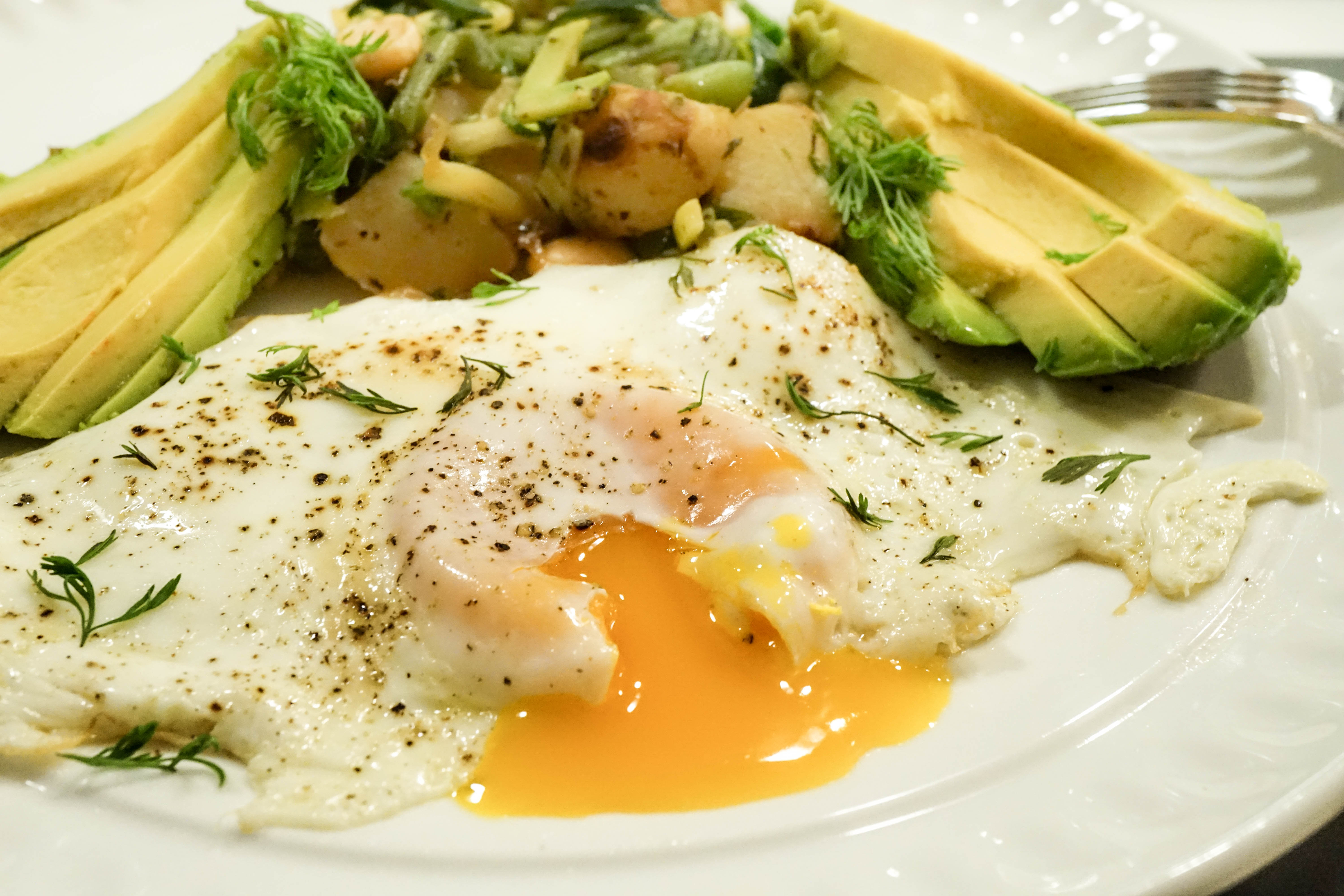 This is a simple and easy recipe with just a few ingredients. And the best part is you can sub in any vegetables you have. The key is to have the potatoes as the base and a few spices.
Serves: 4
Ingredients:
potatoes, yukon gold, 4 small
green beans, 2 handfuls
zuchinni, 1 medium
dill, fresh, about 5-7 sprigs
almonds, marcona, 1/8 cup (optional)
salt, 1 tsp
pepper, 2 twists
thyme, a dash (can sub for other herbs, like extra italian seasoning, chive, marjoram)
italian seasoning, 2 dashes (can sub for other herbs)
olive oil, 1/2 tbsp + 1/2 tbsp
water, 1/2 cup
avocado (optional)
Tools
Directions
add about 1/2 tbsp of oil to a skillet and place on medium high heat
dice the potatoes and add to skillet. Stir so they are evenly coated with oil and stir in spices (salt, pepper, thyme, italian seasoning)
while the potatoes cook wash and cut the green beans into 1" strips
after about 5 minutes, or when potatoes are slightly softened and lightly browned, add green beans to pan. Add water, stir and cover. These will simmer another 5 minutes or until the potatoes are softened
while potatoes and green beans are cooking, spiralize and cut or julienne the zucchini.
remove dill form the stems and coarsely chop
when potatoes are soft, add in the zucchini and dill. If you are adding almonds, add them now
cook eggs however you prefer - I prefer over easy, poached or sunny side up in hash
plate the hash and top with cooked eggs. If you are using avocado, add this to the side.
serve and enjoy!