Ginger Turmeric Honey Chili Sauce with Dried Red Chilies is spicy, tangy and fresh, making a great marinade, dip, and homemade hot sauce. It's also chocked full of superfoods.
It's hard to meet a kitchen failure that can't be cured with some decent hot sauce. And dousing kitchen failures in hot sauce is probably how I got through the first couple years of my gluten-free life, and college.
That said, after you get your cooking chops, you start to grow disappointed with the old hot sauces on the shelf. You want something fresh and just the way you like it. Especially when that dish you are cooking is supposed to be spicy.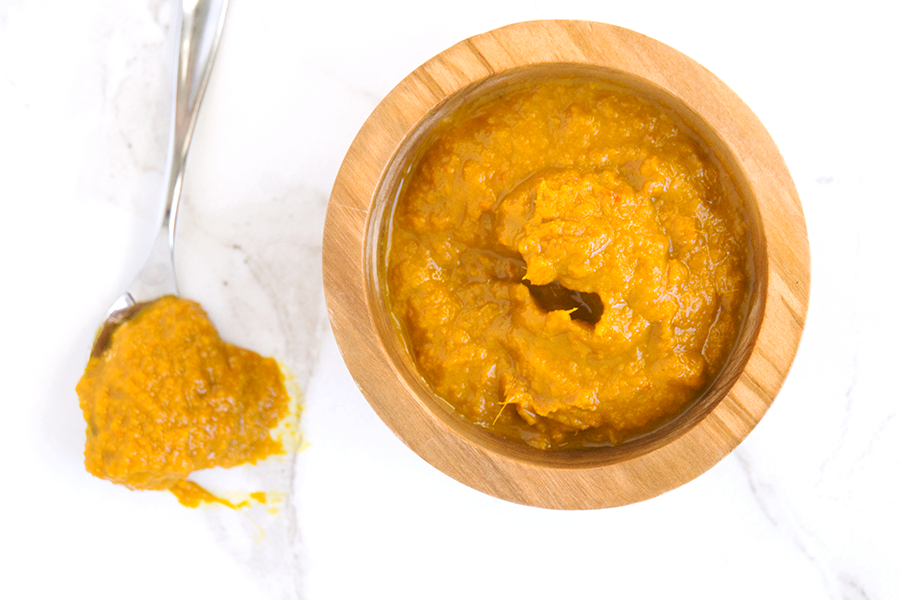 Enter: The Purposeful Hot Sauce
This isn't the cover-up hot sauce here. Rather, this is the main-stage, headliner hot sauce. Plus, it has ginger and turmeric, so it's basically a superfood.
The raw honey gives a sweetness and maintains its benefits in the finished dish since we never cook this sauce. I love incorporating honey because it can reduce allergies and inflammation. Also, it helps this recipe steer clear of refined sugar.
I used dried chilis because that is what I tend to have on hand. However, you can use fresh chilis as well. If you are using fresh, just skip the soaking. You only need to soak the dried chilis so that they will puree nicely.
You might also like:
Choosing your Heat
The heat level as described int he recipe works nicely for this Colorado native. It's got a kick, but it definitely doesn't create too much heat. The vinegar and honey nicely balance the spice.
If this is too hot for you (looking at you Wisco and Michigan friends) then add a little extra vinegar and honey to calm the heat. I recommend mixing it as suggested and tasting it before making any additions.
If it isn't hot enough, use the chili soaking water instead of fresh water, add additional chilies, or soak the chilies with their seeds if you're brave!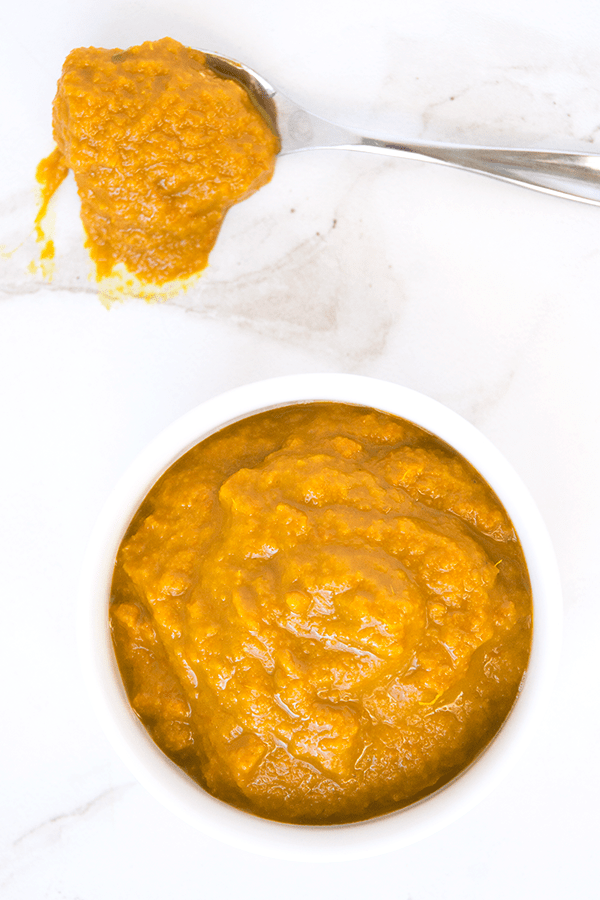 How to use this Ginger Turmeric Honey Chili Sauce
This is calling for a stir-fry. It would go nicely with a summer vegetable medley of zucchini, yellow squash, and asparagus.
It also pairs excellently with winter vegetables like brussels sprouts, carrots and butternut squash.
Making the Ginger Turmeric Honey Chili Sauce
First, you will need to reconstitute the red chilies by soaking them in water for 20-30 minutes or overnight. I usually use a mason jar for this. Make sure to crack open the chilies and remove the stems and seeds before soaking to keep the heat to a manageable level. If you love spice, then feel free to keep them in, but that's too hot for me and the Eat Your Way Clean household.
Peel the ginger and turmeric, saute onions, and then throw all of the ingredients into the blender. I use a Magic Bullet
because it has proven to be the best blender for liquidy concoctions of small volume.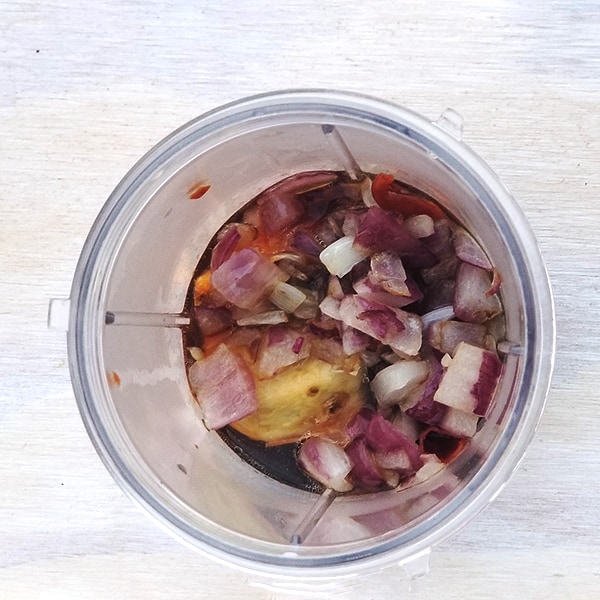 For a spicier mix, use water that was soaking in chilies instead fo fresh water. That water is to make a thinner consistency, but it can also serve to change the spice level.
To make a vegan version, use agave and tamari instead of honey and fish sauce.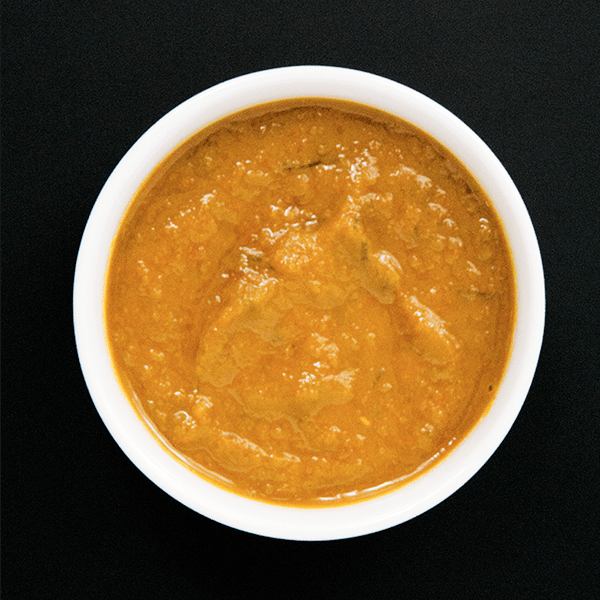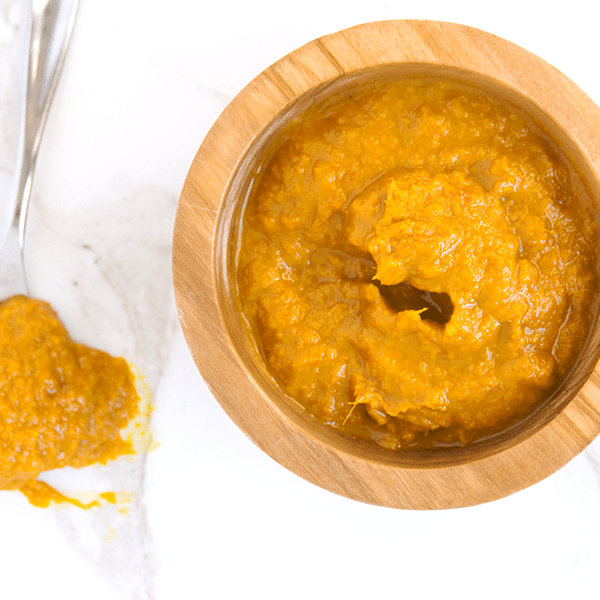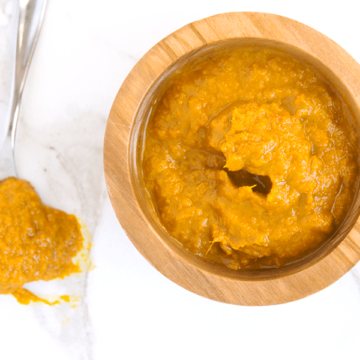 Ginger turmeric honey chili sauce with dried red chilis
Spicy, tangy and fresh sauce that makes a great marinade, dip and homemade hot sauce. Also chocked full of superfoods
Print
Pin
Rate
Ingredients
A handful of dried red chilis

it should be about 1/4 cup reconstituted

1.5

inch

turmeric root

1

inch

knob of thick ginger root

1/4

cup

red onion

diced

Dash olive oil

1

tsp

fish sauce

1

tsp

coconut aminos

can sub 1/2 tsp tamari

1

tbsp

raw unfiltered honey

2

tbsp

fresh chives

diced, 1 tsp of dried if using dried

1/8

cup

water
Instructions
De-seed chilis and then soak chilis in hot water for about 20-30 minutes or until reconstituted

Peel ginger and turmeric. Set aside

Saute onions in oil on medium high heat for 3-5 minutes

Put everything into a small blender and pulse until the mixture reaches a smooth saucy consistency.

Taste and adjust as needed. If it is too spicy, add some extra vinegar or honey.
This nutrition information does not tell the whole story of food's nutritional value! Make sure to use your gut intuition on what your body needs, eat your veggies and get 30 plants a week for optimal gut health. This nutritional data is calculated based on above values and standard brands. This information may vary.