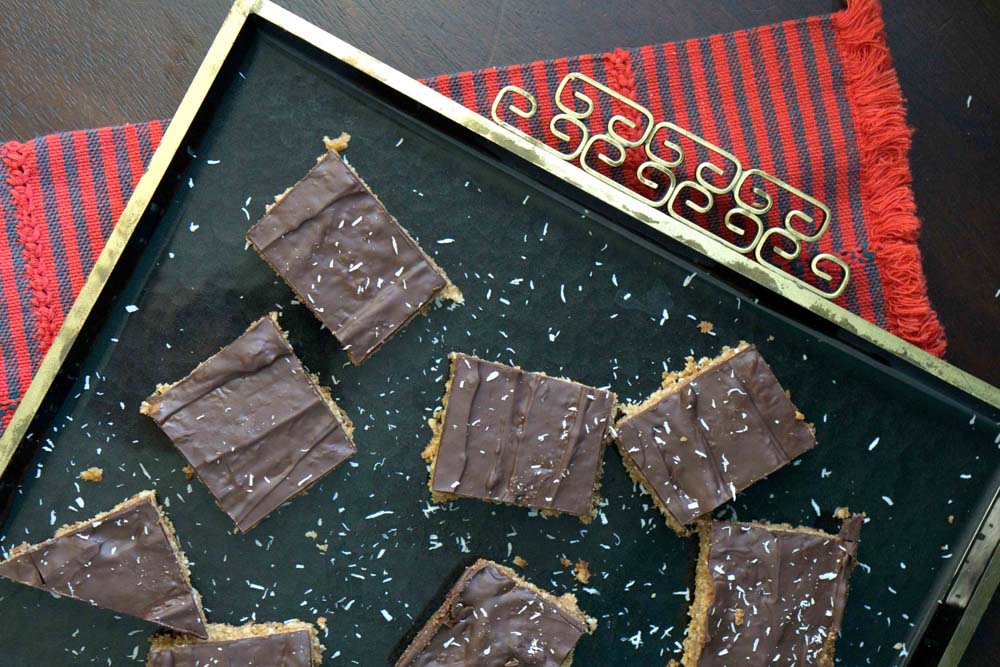 Grandma's classic English Toffee Bars transformed into a healthier and more delicious version. Melt in your mouth goodness that's gluten, dairy and refined sugar free.
AKA... the best Christmas cookies of all time!
They were always my fave at Christmas time, and if you've been keeping up, you know there was a lot of stiff competition in the christmas cookie realm as a kid.
Even now, it's hard to get the dough in the oven without it all escaping into my mouth. But it's totally fine. I don't have to feel so bad about it because they are packed full of good things: almonds, walnuts, and lots of coconut.
And ya, they have more sugar than I should eat even if it's unrefined, it's Christmas so I don't care. Plus, it's way better than your average cookie.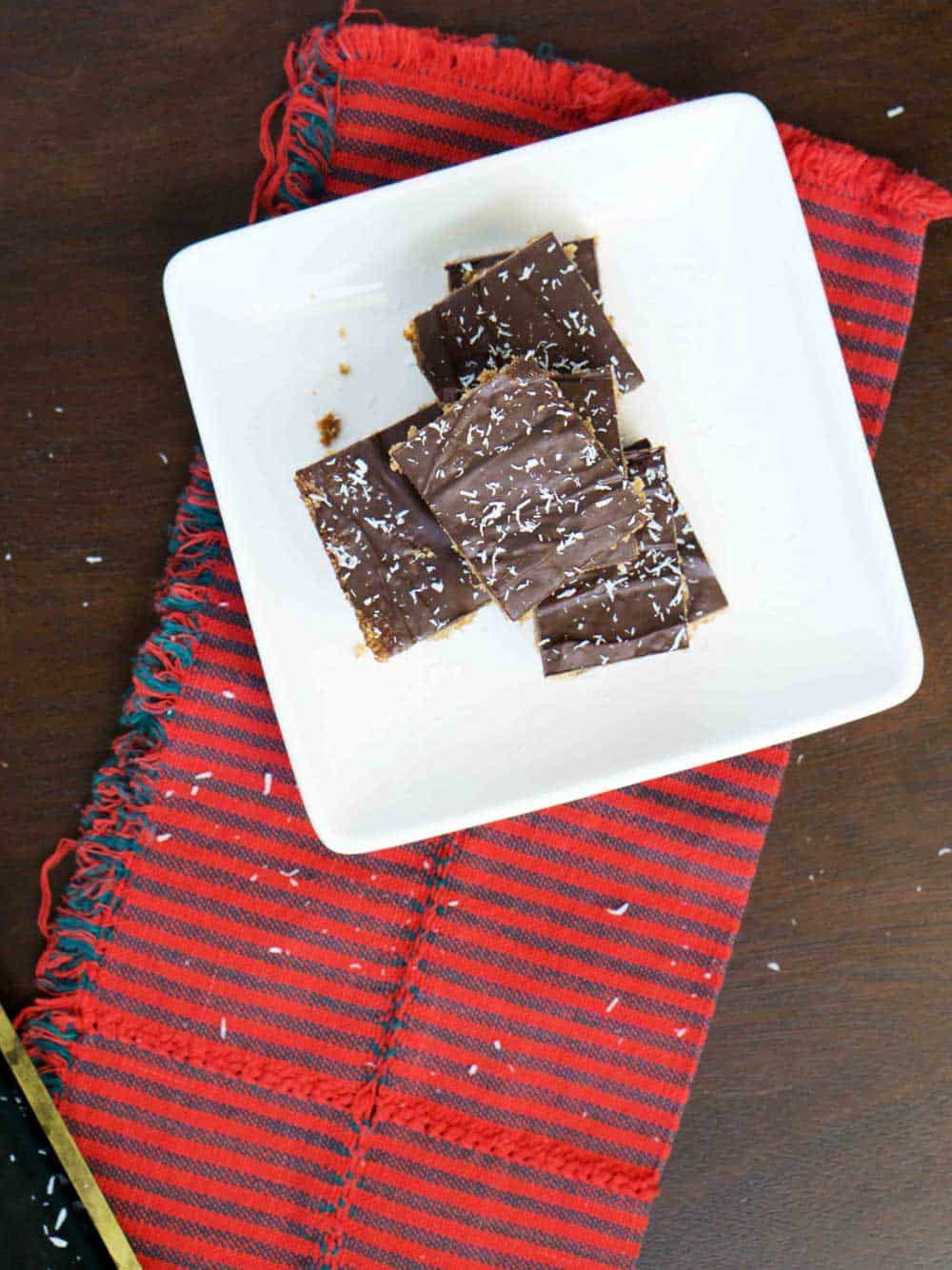 A quick cookie for the rushed holidays
It's no surprise that I try to fit more than humanly possible into most of my days. That problem gets worse around the holidays.
Today, for example, I planned to go for coffee with an old friend whose back in town, go to the grocery store to buy ingredients for the toffee bars, make these toffee bars, photograph these toffee bars, post the recipe, do a full day of work, clean the house, wrap presents for the weekend, finish my holiday shopping and drive up to the mountains to see some other out of town friends for dinner.
So far, I'm way behind. And canceling plans left and right.
Does anyone else overcommit?
Luckily, these English toffee bars are pretty quick to make. They only use one bowl, so clean up is easy. And they only take about 10-15 minutes to prep and 15 minutes to bake.
That means it's possible that I could get everything done!
Maybe.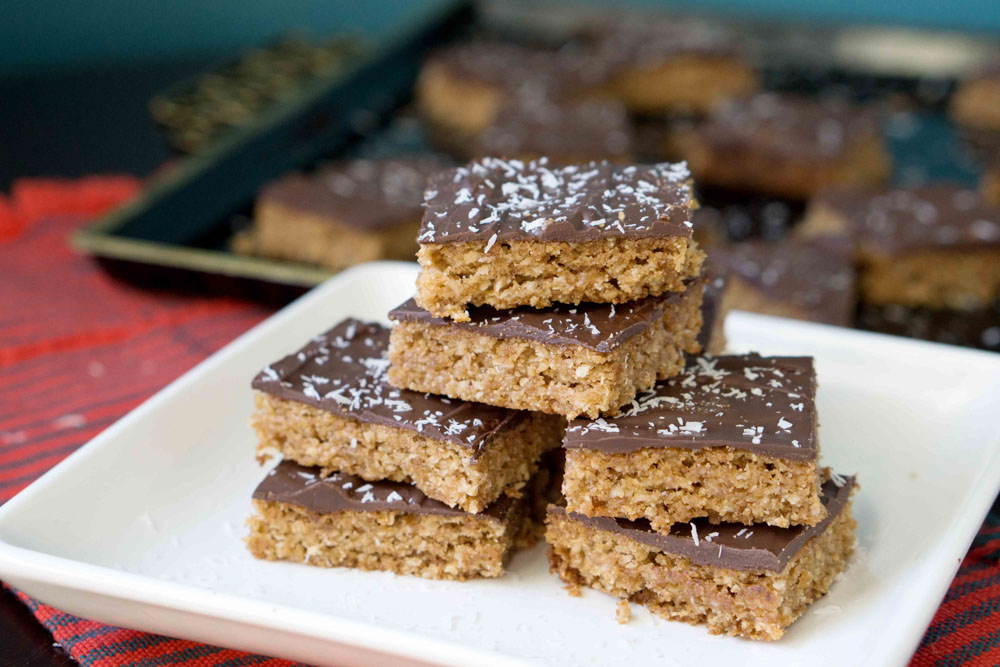 The English toffee bars
The bars themselves are based off another one of my grandma's recipes. Butter is replaced with coconut oil, heaps of granulated sugar replaced by 1/3 the coconut sugar, and the all-purpose wheat flour was replaced by nuts and paleo flours.
I feel a lot better eating this version!
I tried several variations to get this just right. The other variations were delicious, but they didn't have that same flavor and texture of grandma's recipe. One ended up being a great granola and one ended up being closer to shortbread.
After lots of trial and error (and taste-testing) I found the perfect mix.
I love these new English toffee bars and I know they'll continue to be a holiday staple in our house.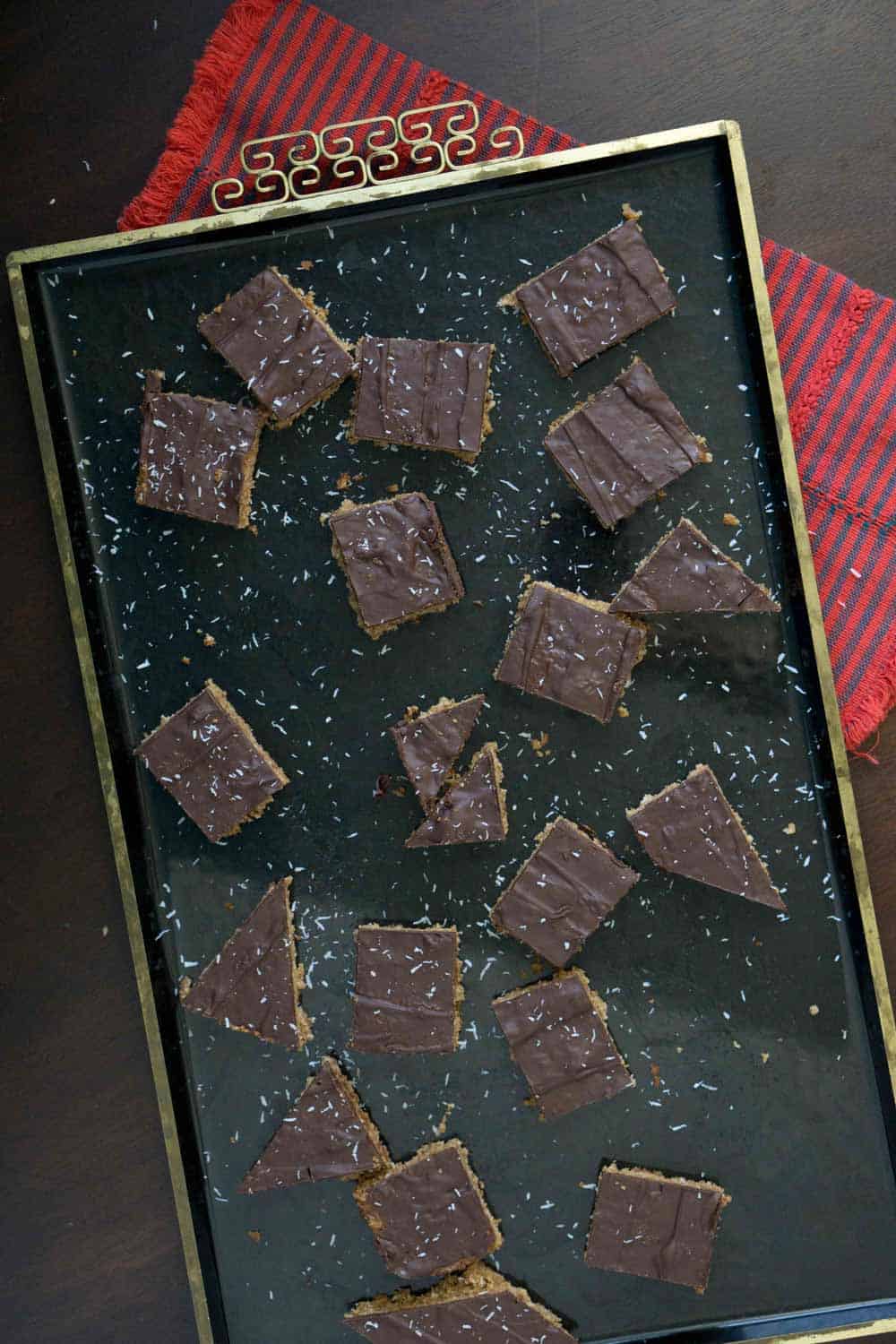 The chocolate ganache topping
There are several ways to do the chocolate topping.
As a kid, we covered the bars in chocolate chips right when they came out of the oven and put a baking sheet on top of the pan to seal in the warmth. The chips melted and then easily spread over the surface, creating a chocolate crust topping.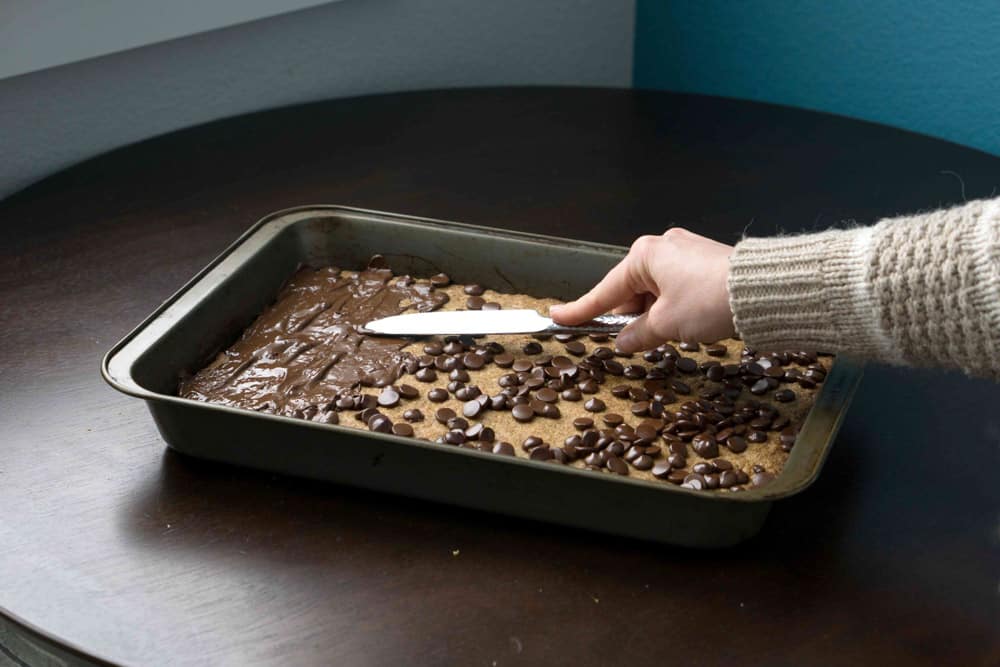 If you go the chocolate chips route, look for a dairy free version. Note: it's difficult to find chocolate chips without refined sugar.
If you want to make your own, you can use a ganache which is included in the recipe below.
Making chocolate, while it seems daunting, is actually really quick and easy. You just melt cocoa butter or coconut oil, whisk in cocoa powder until combined, and stir in some maple syrup or honey for sweetness.
I prefer to make my own chocolate sauce to reduce the refined sugar. Because if I don't make my own and use chocolate chips with cane sugar, I'll still eat half the batch and end up getting a sugar headache. No bueno. Especially with all the things to do.
For this ganache, I used cocoa butter for a richer, chocolate taste, but you could use coconut oil as a substitute.
Make two desserts in one?
Why not?
If you're pressed for time... which let's be honest, we all are at this time of year... you can make this delicious ganache topping from Ana at Rosemary and Rye. The benefit of using this ganache is you can make it once and get two desserts.
Use the first portion of the recipe to top the English toffee bars and the second portion to make delicious chocolate ganache truffles!
The truffles and the ganache are gluten free, dairy free and refined sugar free. And they will be a hit at any holiday party.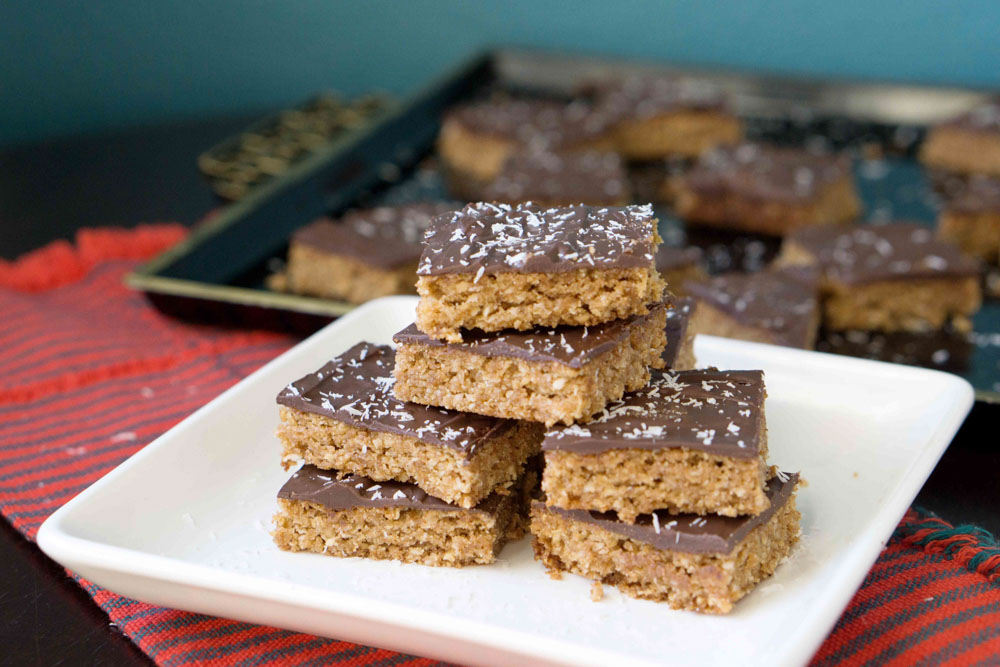 Pin for Later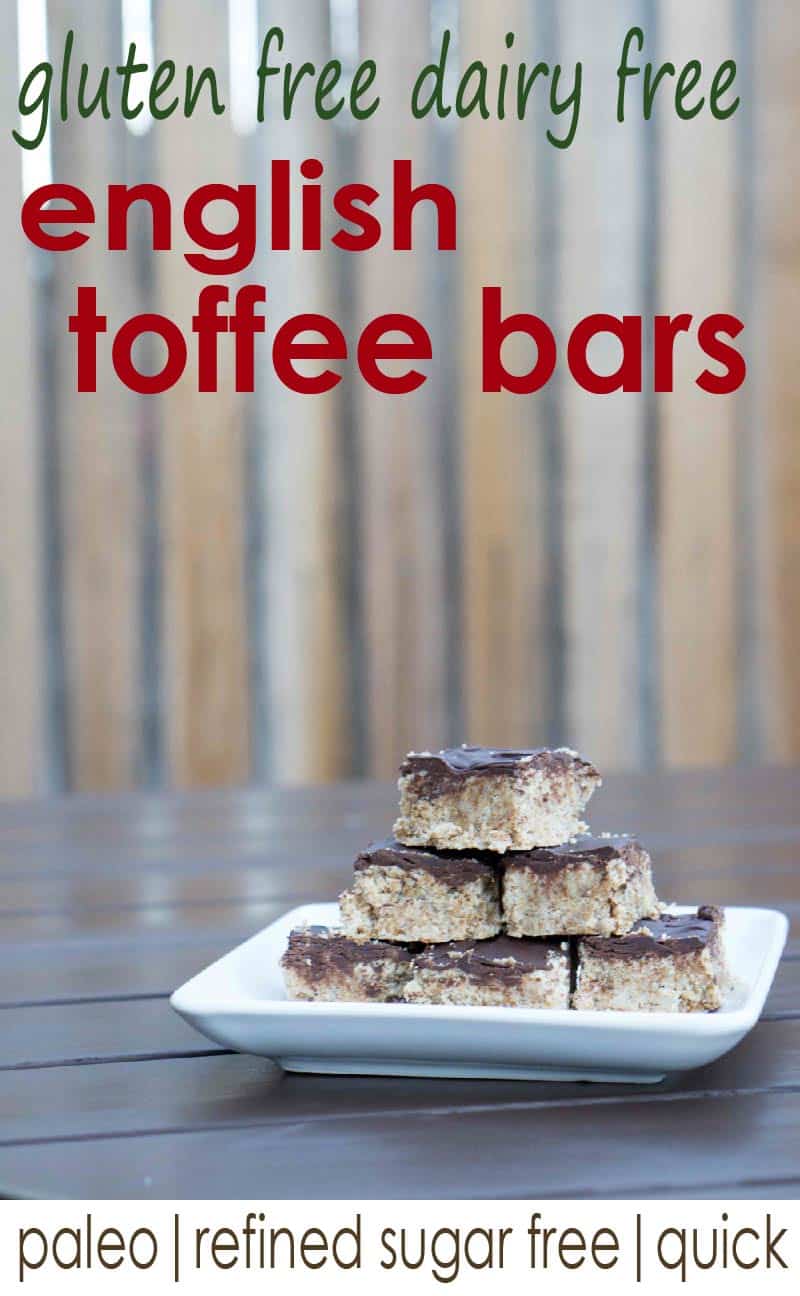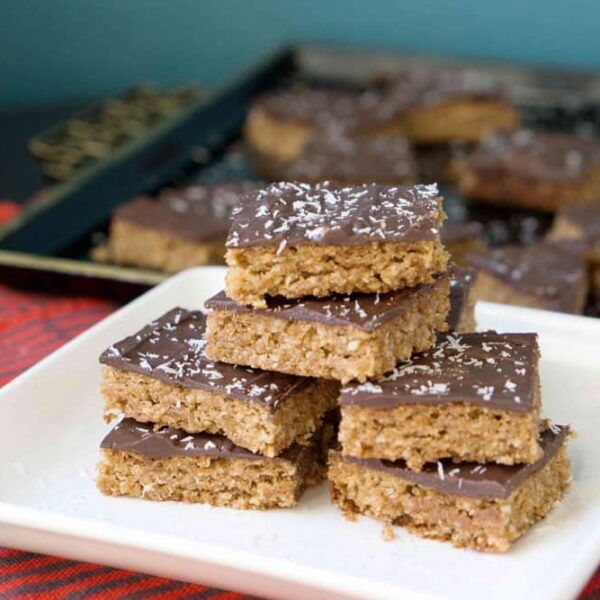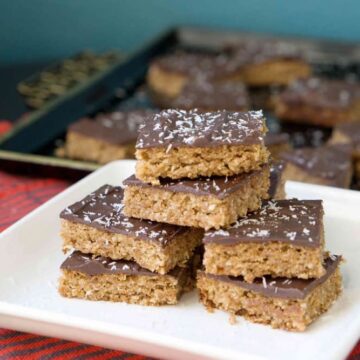 English Toffee Bars
Grandma's classic English Toffee Bars transformed into a healthier and more delicious version. Melt in your mouth goodness that's gluten, dairy and refined sugar free.
Print
Pin
Rate
Ingredients
English Toffee Bars
1

cup

coconut oil

softened

1

tsp

vanilla

1

egg

1

cup

coconut sugar

1

cup

roasted walnuts

4-5 min at 350 and then food processed/ ground into flour like substance

1

cup

almond flour

1

cup

gluten free quick cook oats

1/2

cup

coconut flour
Chocolate Ganache Topping
1

cup

cocoa butter

1 1/3

cup

cocoa powder

2

tbsp

maple

1/4

cup

desiccated coconut

optional for topping

1/4

cup

chopped walnuts

optional for topping
Instructions
English Toffee Bars
preheat oven to 350

Toast walnuts for 4-5 minutes or until slightly aromatic.

Mix coconut oil, vanilla, egg, and coconut sugar together in a medium mixing bowl

Grind walnuts in a food processor or coffee grinder until the consistency of nut flour. Don't over blend it or it will turn into walnut butter

Add ground walnuts, almond flour, oats and coconut flour to bowl. Mix well

Spread dough evenly and flat on the bottom of a 9x13 pan

Bake for 15-16 minutes or until golden brown around edges
Chocolate Ganache
As the cookies are baking, melt cocoa butter in small saucepan on the stove on medium-low heat

Mix in cocoa powder and whisk with wooden spoon or whisk until evenly combined

remove from heat stir in maple syrup. The sauce will boil, but that is ok. Stir constantly until it stops bubbling.
Assembly
Remove bars from oven and pour chocolate ganache on top

Using a butter knife, spread the melted chocolate into an even layer

Optionally top with other toppings like desiccated coconut or chopped walnuts
Notes
Instead of making the chocolate ganache, you can also use 1 cup of dark chocolate chips. After you remove the cookies from the oven, spread chocolate chips evenly across the top. Cover the pan for 2-5 minutes until chips melt. Then use a butter knife to spread the chocolate evenly over the English toffee bars